Browsing articles in "Blog"
It's been a while since I've posted on here. Twenty plus speaking engagements, some life turmoil, travel, climbing, writing, moving, etc. etc. it all put a crimp in the time I had for this blog. But I'm back! And I'm going to do this blog differently; in past years I've put more emphasis on longer stories and rants, which just don't fit the way life works for me right now. I'll still write some of those when time allows, but I want to have more fun writing about more topics more often. Zoom!
Olympians, Speaking.
A week ago I did one of the most important speaking events I've ever done as part of the Olympic Excellence Series in Vancouver. These events are for the top medal contenders for the 2014 Olympics, their coaches and Canadian Olympic Committee personnel. I worked closely with the COC in the weeks leading up to the show to really dial in my presentation's message to fit the challenges the athletes expected in Sochi, and I was confident in it. But to get up on stage before more than 100 of Canada's top athletes along with their coaches and team (including people like my hero, Steve Podborski!) and speak was just a huge deal for me. I'd have gladly paid to hear any one of them speak. I still get nervous before I speak, but over the years I've learned that's a good feeling, and that I can use that energy if I respect it and listen to it. I use the same basic strategies for competition that I do for speaking (be overly prepared, put the stress into positive avenues, respect the time I'll need alone before I go, don't have anything else that has to happen the day of the event, visualization, etc.) and it was all good, but very powerful for me. After the presentation and the next morning I had the honour to meet some of my heroes and talk with them a bit about their training and lives, and it totally fired me up. For me speaking is always both incredibly exciting and draining, like anything cool in life. I learned a lot during my Red Bull speaking tour this spring, plus the COC, CHBA, Enbridge and other shows I did, but there's always more to learn, ways to do it better. Thanks for the opportunities!
I've been involved in competitive athletics for over 30 years as an athlete, coach, pundit and facilities operator. And I think that the vast majority of what we're teaching our kids and offering to adults in terms of being "Fit" is just wrong. I'm writing a piece about this right now for Explore magazine so I won't go into it all too much, but I think there need to be some physical standards just as there are scholastic standards. Radical idea? No. Why should it be acceptable to graduate from high school without knowing how to read anymore than it should be acceptable to graduate without being able to hike a mile/K in less than 15 minutes? Or do 10 pushups? Or a pull-up? And why is fat such a horrible word in our minds? I've been walked into the ground by a fat grandmother in Mexico; she was fit as hell, but because she had a spare tire around the middle society would have looked down on her. We need a new definition of "fit" that is far more inclusive and realistic while also being a standard that actually means something. There are special educational needs kids who I love and respect greatly, and there will be special needs kids and adults in terms of fitness for sure. But right now what I see in the cities, airports and even rural areas of North America is that most of the population is physically illiterate, incompetent, and being given terrible advice on how to change that. It's a ridiculous situation that has somehow become "normal." I am to change that idea around some, more in the coming weeks.
Travel Notes: Travelocity Sucks, Mustang GT Review
If you fly Westjet don't book your flight on Travelocity. If you want to change a flight you'll have to call Travelocity; Westjet won't change the flight if you book it through Travelocity. If you've booked your flight with Westjet you can change it for $50 plus the differences in fares, but not if you booked through Travelocity… Travelocity will then add $120 onto Westjet's change fee. Seriously, it's the most ridiculous "gouge" fee ever–I just paid $190 to change a ticket that should have cost me $50 to change. Here's a big fat finger in the eyeball of Travelocity, I'm not booking another ticket with them until they refund that ridiculous fee. I'm also not real impressed with Westjet, as Air Canada and other airlines let you change Travelocity booked fares without having to call Travelocity up.
On the plus side I recently received a free upgrade to a Mustang GT at YVR. 420 horsepower, low profile tires, convertible, yeah, this was gonna be fun! I was totally hoping to get rid of my bias against American "sports cars" as I've driven a few American rentals lately that were pretty good (Ford Focus was solid actually, and a Chrysler 200 was half decent also).Overall I was impressed with the power, but at high speeds and cornering the car just didn't do it for me at all; my ancient Audi felt way more locked down in the corners at the same speeds. I don't know how a car with such low-profile tires could be such a junk show at speed in the corners, but it was. It felt like the suspension was super soft for the first few inches and then rock hard after that. This would "launch" the car off its springs and give it an odd hovering feeling, which is not what you want on a wet road when you're experiment with tire adhesion. I got into a bit of a drive with a WRX on the way back to YVR, and although I could gain hard on him in the straights it wasn't good in the corners at all, just did not trust the Mustang not to buck.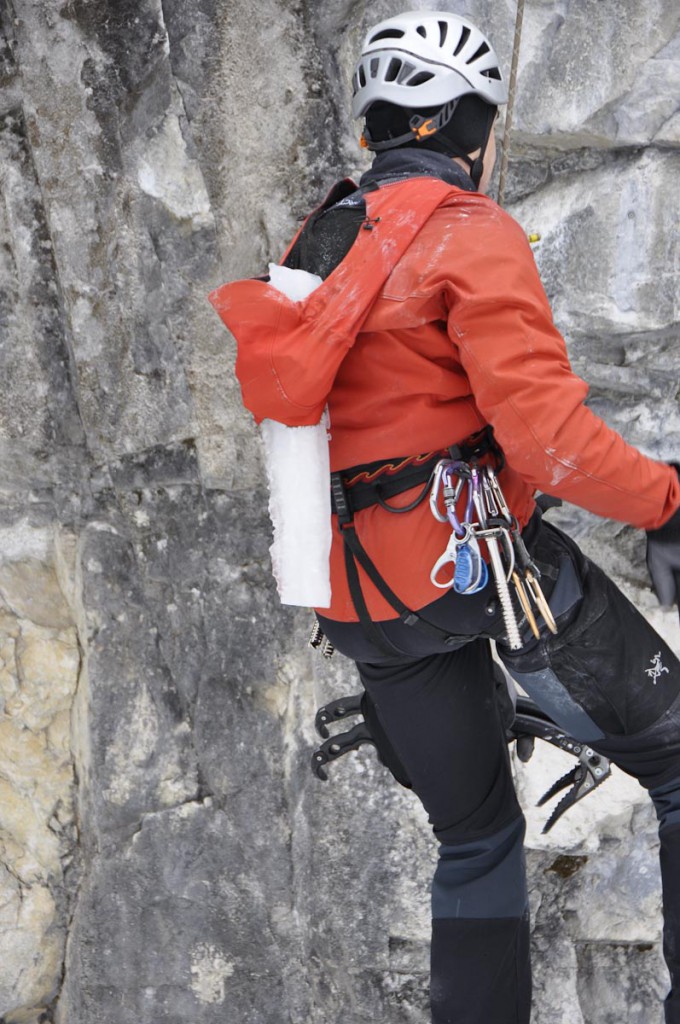 I'm on a bit of a "negative" blog posting pattern lately, but I keep seeing some rather, ah, well, stupid behaviour out there that I feel the need to comment on because it's just so totally unnecessary, and I'm running out of Steri Strips in the first aid kit.
One of my main rules for ice climbing is, "If you get hit with falling ice it's your own damn fault, and you deserve it." Ice falls; I don't want to hear a call of "ICE!!!" unless the whole climb is falling down. Yelling "Ice" while ice climbing is like yelling "PUCK!" in a hockey game or something, it's part of the sport. We should all be approaching ice climbs with the knowledge that falling water ice really really hurts at best; I view falling ice as extra sharp-edged rocks. Nobody would stand under someone climbing a loose choss heap and dropping rocks, but somehow on an ice climb the inexperienced often seem to think it is. Weird, I know, but I see it all the time.
Here's the list of "don't do this" stuff:
-Don't climb below another party on an ice route. You will get hit with falling ice from them, as they WILL drop ice. If that ice hits you it's your own fault (see the comments below–this is not the first broken arm/face/head I've heard of from climbing below another party).
-Keep everyone either well back from the climb if top-roping, or well off to the side. In every clinic I teach someone creeps in toward the climb while I'm coaching someone else, and either gets a little surprise slap from a piece of ice or (usually, my clinic participants get the "Ice falls, don't be in the way talk first thing) someone else in my clinic gets them to move back out. Lifeguard each other to maintain proper distance from the climb. Ice will fall down, it's totally expected, so only yell "Ice!" when you knock down a really big piece that has the potential to fly farther out than anyone expected. Continually yelling ice makes it meaningless, and again, falling ice is expected, part of the sport…
-Don't put your belays in open places where falling ice from the leader will hit you. Remember that ice will bounce farther and farther to the sides as the leader gets higher; from 40M up ice can easily bounce 10M to either side. Ice climbing involves falling ice, and standing under it (especially if tied in place) is a recipe to get smacked. As I recently said in the comments, I can tell how experienced a party is at multi-pitch climbing by where they put their first belay. If it's in a sheltered cave then I know they have a clue. If it's a nice sunny alcove directly under the next pitch then I know they are from England, Australia or Colorado… "Ouch Mate, why'd you drop that on me arm!" 'Cause it's ice climbing silly Brit… I'm picking on the Brits here because they can take it and I love 'em, but I see a lot of this in Rjukan, the Weeping Wall and other places that attract large quantities of relatively inexperienced climbers from relatively iceless locations.
-Don't climb too far apart vertically when simul-seconding or climbing two parallel lines on a wide waterfall or alpine face. Put the belayers to the sides on the first pitch, they second at the same time to a protected belay in the middle of the climb. Leaders head out to the sides, belay out there or in a protected place, repeat. The result is a sort of diamond-shaped track up the route. If one climber gets very far above the other and they are at all close the ice will bounce sideways enough to cause problems…
-Don't top-rope the first pitch on multi-pitch routes while climbers are still above. Seriously! As unbelievable as this might seem, people do it regularly, and get smoked as  a result. I would have thought this would be obvious, but no, apparently not… There was a recent accident near Canmore involving this scenario.
-Don't forget to communicate when rappelling multi-pitch routes with people coming up. Hanging out in space on the rap line while pizza-sized dinner plates go flying by just sucks. Talk with the other climbers, make it all work in a friendly way, it can be done safely but takes open coms, a willingness to work together and perhaps a little more time to do it safely.
-Don't belay at the base of the rout and get all annoyed when the leader drops a foot-ball sized chunk on your shiny, now destroyed helmet… Ice falls, stand out of the way. Anchor yourself way off to the side if the leader is climbing free-hanging pieces of ice. I'm totally amazed no one has been killed in Haffner (there have been some bad accidents there).
-Don't let a bad situation develop. Often people get so worked up about going climbing that they forget their common sense. You can't be shy about saying, "Hey, if you start climbing across above me me right now as I belay my leader you're going to drop ice on me, please don't do that!" If they keep going then you need to be direct, forceful and clear, they are endangering your safety, and probably just do not understand the danger they are putting you into. Hoping for a good outcome is not enough. A lot of novice ice climbers are simply clueless about the damage ice can do. Also be careful as new climbers enter an area you're climbing in; assume they are clueless, and often people walking around won't have their helmets on. They need some minding, a quick, "Hey, she's knocking a lot of ice off, you might want to wait a minute until she's done or walk wide around the base " is a good thing to say.
-Don't let accidents happen: If someone starts leading up below you then yell down, "Hey, I'm going to be dropping lots of ice, and if it hits you on lead it could break your arm or head, and definitely knock you off. I'd feel bad about that and have to help clean up the mess, you'll want to wait!" If they keep leading below you then they have been warned, but you've got to give solid warning and allow them time to retreat. It's like pistol duels back in the day, play fair and then let evolution do it's thing… Hopefully not, but I see too much of this sort of thing to believe climbers will naturally figure it out.
So, in the picture below there are two parties climbing. The top leader has put his belayer exactly in the line of fire. Another party has started up below the top leader's belayer, and was climbing while the top leader was leading. The really amazing thing is that the top leader has put his belay exactly in the line of fire, AGAIN, and again pummelled his belayer as he led up the last pitch. Plus it was extremely dangerous for the lower climbers, who were still climbing… This route is climbed and guided regularly with reasonable safety; put the belayers in the obvious caves and the safety margin would have been vastly higher. And this photo is from Hydrophobia, a grade 5, where one might expect that the climbers would know a little about multi-pitch ice climbing. Some of them are friends of mine and nobody got too beat up, but they are primarily rock or alpine climbers, and made a few classic mistakes while I had a camera handy, doh! I did see one of them a few days later sporting a nice big facial bruise… I'd say that was lucky. Ice climbing is dangerous enough when you do everything right.
Rant off, ice climbing is a beautiful sport I love, and it seems to be growing in popularity. This  is great, but the knowledge transfer isn't growing at the same rate. Safe climbs!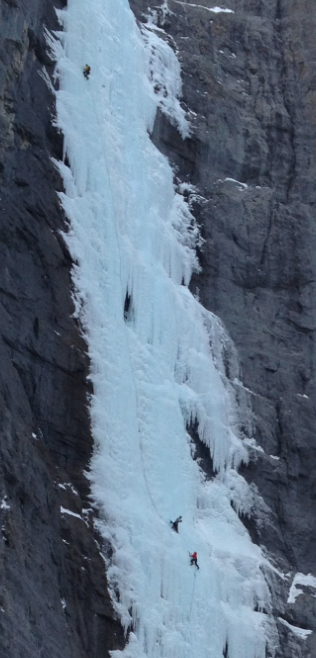 Everybody thinks it's the bottom of the free-hanging or free-standing ice features that you have to be the most gentle with, but they almost always break catastrophically at the top, where the tension is the greatest, and where there is the most mass to damage a climber… Be delicate up high, and never place ice screws into free-hanging or even smaller free-standing pieces!
Looks like you have to cut and paste the link into your own browser to see the GIF in motion, which you should definitely do–scary!
http://24.media.tumblr.com/db7090a153e0f6cb0bc6cf556ecac818/tumblr_mii9ezrfGp1rsy34co1_500.gif
24.media.tumblr.com
Be careful sending me emails, you may get turned into a blog post, ha ha!
Here's an interesting "hanging" belay on ice, maybe done to practice hanging belays? It has a few interesting things going on (plus in other images I won't publish here) that I thought I'd comment on.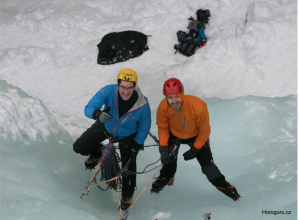 -In 30 years of ice climbing I've never had to do a hanging belay. Put belays in flat spots where the belayer is sheltered. Seriously, there is no reason to do a hanging belay–the belayer is a sitting duck for falling ice, which will hit him or her as he's not sheltered if he's hanging…
-Maybe don't hang climbers off to the side on individual ice screws; if that one screw fails (and screws under load often slowly melt loose…) the shockload on the other screw is going to be MASSIVE, and may very likely rip it. If you have to do hanging belays, and again I never have on ice, put the climbers into the "focal point" of the belay.
-Clipping a screw in the anchor for the leader is generally not a good idea; if the climbing is really insecure put the belayer a few meters below the belay and run the lead rope through the focal point of the belay. This is much, much stronger, and the belayer likely won't get slammed into the ice really violently if the leader falls off. A direct anchor belay may be an option with ice screws also.
-In general don't clip into the belay with sling; use the rope, makes for a lot lower impact forces in a factor-two fall onto the belay (assuming you don't clip a screw, which I generally now don't for a lot of reasons).
I recently received the following email:
"Dear Will, I read your book, and found it quite inspiring and full of good tips. I just wanted to ask you one question. In your book and videos, you recommend place the ice tools near the same vertical line, one higher than the other, and the moving the feet up. As in: tool, foot, foot. tool, foot, foot. I had a couple of ice climbing lessons, and the instructors always recommend: tool, tool, foot, foot. tool, tool, foot, foot. I just wanted to ask you if know why they say it, and what really is the best why to climb (maybe what you recommend is the best way with the modern tools?) Thanks, and keep inspiring us!"
I replied:
Your instructors are likely teaching the "X" steep ice climbing technique from 20 years ago. I know this technique well; for years I climbed steep  routes with it and wondered why I often felt off-blance and awkward, and climbing them took a long, long time. It was only when Kim Csizmazia and I figured the "T" technique out while training for the X Games (ironic letters there!) that ice climbing suddenly became a lot more secure, fun, and natural feeling, like rock climbing. I'm sympathetic to those stuck in the X style dark ages of ice climbing as I was there too, but it's 2013, time to update the program and have more fun with a better technique.
Fundamentally the X technique is slower, less secure, more off-balance, etc. If you think about it when you place both tools side by side (tool tool) then naturally you're in the middle of them when you pull up, or to look at it another way, the tools are off to the sides of your feet…. I'm calling modern technique "T" style for triangles with the tool at the top and the feet out to the side about shoulder width apart. The "X" technique results in a lot of undesirable outcomes, but primarily:
-Tools get stuck a lot. Tools are designed to be ripped out using the cutting surface on top of the pick, not wobbled and beat on with your hand like so many people mistakenly end up doing because they place them side by side. You just can't take a tool out properly with with the tool at shoulder level. Staggered tools put the handle of the tool to be removed at around waist level. It also requires more strength to hold the lock-off in the X position while wrestling a tool out. It just does not work well.
-Off-balance stance. If you're in the "middle" of two "holds" then naturally when you take one away you are in the all-too familiar "barn door" feeling that most people think IS ice climbing happens. It's terrible to watch, and terrible to feel–when you have that tight feeling across your back and into your rear delts you're in the barn-door, off-balance X position. I can watch the rear deltoid and obliques engage until the opposite foot to the remaining tool blows off when people are in the "barn door" position while ice climbing. And usually those practicing the "X" technique still don't get their feet level, so the opposite lower foot blows off a lot. I can watch this pattern from a mile away over and over again, it's again what a lot of aspiring ice climbers think ice climbing should feel like. It shouldn't! Ice climbing should feel natural, fun, smooth, relaxed, and above all naturally stable and secure. The X position screws all of this up.
-X technique is less secure. Just watch a good climber moving with staggered tools compared to a good climber with "X" technique (what you're describing). The staggered tool climber will not get stuck tools, will be in a natural good position to make SOLID placements, won't shatter the ice between his tools, will move around horizontally as well as vertically more effeciently, etc. etc.
-The X technique is  inefficient from a "how much work do I have to do to get up this route?" perspective; the T technique just kicks ass on X. In a 100-foot pitch the average "X" climber will make a first placement roughly every foot. And then another. It's hard to really stand up properly when you're trying to wrestle a tool out, so most don't. So the X climber will make about 200 placements (two per foot). In contrast, someone who has the "T" technique figured out will make a placement about every two feet, or 50 placements in 200 feet. If each placement takes four swings (that's in decent ice, might require more) that's 200 swings vs. 800. As anyone who knows ice climbing well can tell you, it's the swinging that's the harder work than the actually pulling up….
There are a thousand technique subtleties in climbing well on ice with any technique, and I could list them for hours (and do in my coaching and clinics), but I hope the above makes some sense. The "T" technique just works way, way better. Most good climbers around the world are now running some version of the "T" technique, but there are far fewer good ice climbers in the world than rock climbers. In Canada, Ouray and a few other places some guides and enthusiasts spend 50-100 days a year on ice and have all this figured out, but most people don't climb that much ice in a career, and if they do don't focus on how to do it really well.
One final analogy: A snow-plow turn on skis will get you down just about anything and is a good basic place to start with, but man, the hill is a lot more fun with some other turns! The "T" style is the basic skis-parrallell turn, and there are lots of refinements on it.
And here's a video of why putting your tools close together is not a good idea. The climber's sticks are not brilliant well before he falls off.
He's also looking to the side rather than toward the ice (you can tell by the helmet cam's swings to the side rather than pushes toward the ice), which is a good way to get a facial cut. Lots of other commentary could be made, but it's a good illustration of why putting your picks close together is a bad idea…
https://vimeo.com/58137144
why no vimeo video here? grrrr
A few friends sent me links to this video a while back:
Now, as most readers likely know, I firmly believe falling on ice is generally a very bad idea. This video shows a guy testing that theory; he falls off and not only doesn't break anything, it all looks pretty happy. He does come pretty close to lower-angle ice, but he's judged it all well enough and it works out. This is a piece of evidence, as opposed to belief. Sometimes falls on ice work out just fine. I've also seen people break a leg top-roping when the rope stretched too much. My good friend Rob broke his ankle so horribly while traversing a few feet above the ground that it took years of work to get back to his old level. I have a number of friends who have really, really messed themselves up falling off while ice climbing. It's dangerous.
I actually like these guys and their video because they do something that too many of us don't: Question our assumptions, and look for real evidence. They found that a good ice screw will hold a lead fall, and did it in a sort of safe way. This seeking understanding of systems and ideas is important to me. This fall could have had a bad outcome, but they got enough things right for it to work. I always urge people in my ice and paragliding clinics to try and work with real numbers, and evidence as opposed to belief.  The more technical understanding we all have the better. So this video is another piece of information. Just don't fall off when slightly out of control, a long way above a screw, with uneven terrain below or you may share my friend Jack Roberts fate. That's another piece of data that needs to be factored in.
Mixed Belaying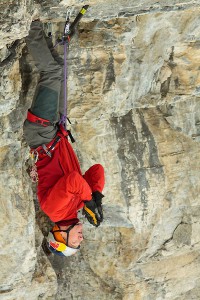 I've been doing a ton of mixed climbing lately. In this arena I've always given and sought an attentive belay, but I've had a few experiences lately that really made me re-think my approach to mixed climbs and belaying the same. We all think we give a pretty good belay (like driving it's the other people who aren't as good), but mixed climb are often bolted somewhat like sport climbs so the "sport belay" tends to start happening. A month ago I fell off maybe ten feet up a mixed climb with the rope clipped two draws up. My belayer barely caught me before my back impacted a sharp rock spike, the same spike that messed my friend JD up a few years back. Just before I fell off I'd asked him to tighten the rope up a bit as I thought of JD's accident. If I hadn't of done that I might too have smacked the rock spike. Scary. But it gets worse…
A week later I again stick-clipped the second bolt, and then somehow fell off while clipping the third. Before I clipped I tested my tool aggressively, felt good about it, but boom, it popped. That has only happened to me a few times in life, and never while clipping low to the ground. I ended up in exactly the same position as in the first fall: Back inches off a sharp rock spike. Same bolt clipped, but I was clipping the next one as I fell so a lot more rope in the system. Somehow my belayer had gotten enough rope in that I didn't deck. I really owe the health of my body today to her attentive belay. I am fairly certain I would have decked hard with the first belayer.
A few days later I was belaying a friend of mine on a local mixed cave route. He blew a move low, and he's a bigger guy than me. I had the rope well organized, and he stopped close to the ground, but not on it. Had I not just had my own "holy shit!" moment I might not have given him the uber-focused belay that kept him off the deck. I also used to think stick clips were for wusses. I'm going to go buy a better one now.
In mixed climbing it's all really, really good until it isn't, and it's easy to get a little bit lax on belay duty. Mixed falls tend to be far more aggressive and explosive than sport climbing falls; more outward force, more head-over-heals stuff, and just more unexpected. Let's keep it tight on our leaders, and remember to clip at waist level when possible instead of high over head; this keeps the outward force on the top tool lower and reduces the amount of rope in the system (less loose rope generally equals less chance of hitting the ground, counter-intuitive for a scared leader but important to remember).
In my ice clinics I often have to really get belayer to suck up the rope hard when the climber is low to the ground on an ice top-rope; if there's 50M of rope in the top-rope it will stretch a solid couple of meters or more under body weight. I've seen a few accidents over the years from loose top-ropes, again a good reminder to keep 'em tight while TRing.
How to hold an ice tool: Three grips.
note–I just shot a little video of this, I'll try to add it shortly, having issues. Until then here's one I shot two years ago–it doesn't have the nice "relaxed grip," but it does show the hand rotation from "swing" to "grip."
It's clinic and ice coaching season, and I've been learning a lot of small things about ice climbing and how to teach people to ice climb better. I really enjoy finding these little teaching methods that allow people to go from beating their way up the ice to flowing up it with purpose, security, style and fun. I obsess about how to communicate subtle refinements that make a big difference to the people I'm working with. I recently figured out a better way to teach people how to hang onto an ice tool, or at least it helped them swing and climb ice better. Here it is:
On modern leashless ice tools I use three different grips, often in seconds: There's the "Swing" hand position, the "Hold On" position, and the "Fist of Rage." The "Swing" grip is, captain obvious here, for swinging, and very few people do it right. To swing well I start with my hand fairly relaxed, and the upper part of my fingers aligned with the SIDE of the tool. If you make a "Karate chop" hand with all the bones in your hand lined up totally with your wrist and arm and then open the thumb up a little and just relax your fingers and hand that's about the alignment for swinging a tool (bit tighter with the lower fingers, but the bones in the upper parts of your fingers, bones in your hand, and bones in your lower arm should all be aligned). Most people grab an ice tool and grip it with the upper parts of their fingers in a "fist" position, with the upper part of their fingers facing the ice, and not at 90 degrees to it.. This "fist" position does not allow the tool to swing properly at all, the wrist just won't flex right. It's the wrist that acts as the "hub" for swinging an ice tool; lock the hub and you can't swing an ice tool fast, and if you can't swing an ice tool fast it won't go into the ice…
The "grip" position is fairly loose again, but with the lower fingers rotated slightly around the tool. Almost all of my "holding" is done with my lower two fingers. I was playing with this recently while training, it's quite interesting how little the upper two fingers do in general ice climbing, even when it's really steep. Your hand should be pretty relaxed, comfortable, there should be some degree of space between the upper fingers and the tool. Try it, you may be surprised how this works. Opening up your hands will keep them a lot warmer, and also relax your mind, which will make you climb better.
The "Fist of Rage" is primarily used when you're gripped, on hard mixed climbs, and by most novices and even those who should know better but have enough power to substitute that for skill. As it sounds, the tool is gripped in a fist, all fingers holding on and at 90 degrees to the ice. It's impossible to swing the tool effectively in this position; try holding a tool in the "first or rage" position and you'll see that the pick points off at about 45 degrees, and the wrist blocks the swing. But this is a great grip for hard mixed climbing; you can lock your little finger down into the bottom of the tool.
So every time I build a placement I rotate my hand slightly toward the outside to get it into a "swing" orientation, swing away until I've got something bomber (no pecking like a chicken, we're ice climbing here, make it SOLID unless it's a hook deep enough to hold a 500 pound tuna), rotate my hand slightly to the "grip" position, and relax.  If I'm going to cut loose for a big swing or something then I go for the Fist of Rage. But it's this rotation between the swing and grip position, every single placement, and opening up my hand and relaxing that allows for an effective swing, warm hands, and secure placements. Of course, you have to remember to rotate back to the "swing" grip after each placement too…
There are of course a thousand refinements to this idea. Sometimes I'll put my thumb on the back of my tool when pecking on very thin ice where it's more like chipping your way up than climbing (I know I just said not to peck, ha ha!). Or flipping my hand totally over on the tool for big reaches on mixed climbs… Lots of variety, but understanding how to get your fingers relaxed and properly oriented when swinging will really help your swing.
Newtown Shootings: It's our whole North American culture that's sick, and that likely includes you and me. Let's top blaming segments and look at the whole: too many kids sitting around alone in dark rooms playing violent video games. Too little good health care, especially mental health care. Ridiculous NRA idiots (and I own guns, don't start that). A society that widely believes in delusional idiocy like "The Secret" and religious fundamentalism is going to produce citizens who can't tell the difference between reality and shooting other citizens. Eat complete garbage for decades, mix in anti-depressants, anti-hyperactive drugs, never exercise, never get smacked in the face with a tree branch or smell a fresh pine tree and reality will become something else. Watch greed-head TV where money and fake boobs are worshipped over taking care of others or being a good citizen. Continue poisoning our environment and ourselves with complex chemical interactions that are only faintly understood, but even what we understand is bad. Drill the hell out of everything with ever-more damaging environmentally disastrous methods so we can delay the inevitable transition to running our economy on something other than fossil fuels. Pay so much interest on the debt and money into the military budget (yet not spend enough on our serving soldiers or vets, another crime) that there's not much left over. Mix in huge class sizes and low-paid teachers, and to me it's not surprising insanity like Newtown happens, it's only surprising it doesn't happen more often. No one component in the above screed is fatally toxic (and I missed hundreds), it's the mix that's toxic.
So, North America, anyone want to actually CHANGE how things work? Get outside more often, eat better, have decent health care, get some reasonable gun laws on the books, stop driving around in cars so much, love each other more and be better humans? If the answer is yes then things might change, otherwise expect more Newtowns. So let's stop looking at the one pet cause we all want to blame, and recognize that if things continue on as they are we are truly screwed. Change.
Bozeman Ice Festival "Learnings"
A friend of mine calls lessons learned while out doing mountain sports, "Learnings." "Learnings" are things gleaned from intense experiences and pensive reflection in the mountains and life; sometimes they are fundamental truths that re-shape personal reality, other times just little things learned that make the passage of time more pleasurable. I thought a lot about what I've learned this fall, all of which came together over the last three days at the Bozeman Ice Festival.
The Bozeman Ice Festival is a ritual tribal gathering grounds, a place where normally responsible civilians from all walks of life put on their Goretex battle clothes and spend a few  days listening to the tribal explorers tell tall tales from far-off lands; get half-frozen, fully drunk; and ritually scarred from flying ice. There are memorials  for the dead, celebrations of the living and always, always a sense of community and shared passion that is only found in the ice tribe's gatherings. I attended my first Bozeman Ice Fest back when my slideshow had actual physical slides, so that had to be well over ten years ago; a lot has changed since then, and I found myself thinking back over the last 15 years of training, competing and mixed climbing. It was 15 years ago that I quit a great job to go climb, fly and adventure full-time. For some reason I really felt that passage of time at Bozeman, and kept reflecting on it all, and learning.
Learnings about climbing ice:
-The steeper the ice gets the more important it is to really finish your movement by getting your hips into the wall with your legs straight. If you look at a person's body in the locked-off position on steep ice it makes a mild back-bend, or "C" with the pelvis the centre of the arch. This moves the upper body out away from the ice (especially important on really steep ice) and allows room to swing, and puts the most weight on the crampons and not the arms.
-There is a simple, repeatable pattern for climbing steep ice. I first taught "cycles" of movement at Bozeman more than a decade ago. One tool high, arm straight, move feet over, move feet up to the same height, stand up, place tool, relax, repeat.  Only the arms or legs should be bent, never both at the same time. Repeat to the top. I see this style a lot in Canada, but it still needs to spread more. Too many climbers are stuck in the 70s for ice climbing, and have both their arms and legs bent at the same time. It's possible to climb any piece of ice with bad technique, but the goal is to float it with a high level of security, safety and fun.
-If your knees are slightly below your hip joints, or your femurs slightly "less" than parallell to the ground is about perfect for starting the stand-up move each cycle. This puts the lock-off in the right spot for most people; if the femurs are more than parallell with the ground (feet too high) then the lock-off hand position will be too low. Femurs less than 80 degrees and the lock-off hand will be too high. Neither one is good.
- Put your helmet toward the ice, don't look away from falling ice. Not one of my clinic participants required steri-stripping this year.  I really drove that home during my second clinic as the ice was brutal, and we got out without blood.
-Staying warm is an active process. Yesterday my clinic and I did about 150 squats to stay warm at -15C., plus ran up and down the hill, etc. It was tolerable even though I had to talk a lot due to the clinic's size. I take for granted all the things I do to stay warm, from swinging my legs to squats to windmills etc. If you're cold it's own damn fault…
Competition and Training Learnings:
I last competed in climbing about six years ago, but I got psyched to do the Bozeman Icebreaker mixed comp because so many of my friends were involved with it, and it looked like a lot of fun. I was also having a really good fall of rock climbing, and got in some good days of mixed action too. I don't think I'm in the best shape of my life, but with a good base of hard (for me) rock climbing and a month of harder mixed climbing I started to feel decent this fall. I was shooting to win the over-40 division, but ended up flat-out winning against what I consider to be a pretty darn strong field.
-Winning is fun. Losing sucks. I've done my fair share of both over the years, and I wish athletes and non-athletes would be more real about both these emotions. Competition brings out huge emotions, storms of internal dialogue, demons and angels, but actually showing or even truly feeling these emotions is somehow taboo; the athletic ideal is a big smile for a win, and a bit of solemn reflection for a loss. I have never felt in the centre of the emotional range after winning or losing; I want to rip the walls down and dance on tables when I win, and crawl into a black pit with spikes around the lip when I have a shitty performance. I think pretty much every competitor who every really tried  feels this way. When you put yourself fully into anything there will be mental repercussions. So let's stop pretending that competition is some sort of new-age self-awareness clinic, it's just not. It can be massive fun at best and head-on car crash carnage at worst. The trick is to use both the negative and the positive to examine everything that led to the experience; emotions are fuel for achievement in my view, but only if the athlete is honest about how he or she feels, and why. Covering intense emotion with psycho-babble anesthetic does not lead to athletic improvement or self-knowledge.
-Training partners really, really matter, as does a good training scene. I had the good luck to get out a lot this fall with a whole host of really good people, which turned into a good scene. Three weeks before the comp I belayed my friend Ben Firth when he sent an M10 despite having no right bicep and severe nerve damage in his fingers from a bad skiing accident; he very nearly died and everyone said he would never climb again, but there he was going hard! It was one of the raddest sends I've ever seen, I damn near cried with joy to see it. Four days before the comp I belayed Sarah Hueniken when she sent a solid M11, the first woman in North America to do so, and the stoke was again just insane I had a really random experience with this at Bozeman; I taught a clinic all day with Whit Magro, and then we jumped on a classic local M11 and got after it for a few hours. We totally destroyed ourselves, got super psyched, and both sent the route in Bozeman. I wouldn't have sent the comp route without his training psyche.. So many other good examples of this in the last two months; every one of my climbing and training partners was with me when I clipped the chains at the top of the route. Cross Fit and other training communities have this figured out; bad days and good days are better with other motivated people.
-Perfection in training doesn't exist. No day will ever be "perfect," nor will any month or year, or even competition. But doing your best to train is perfect. One of my best workouts this year was in a hotel room in England. I was jet-lagged, couldn't sleep, and finally just got up and did finger-tip pullups on the bathroom door jambs (they were steel and strong enough), pushups, squats and some other stuff with the desk, which I at one point pulled over on top of myself….  I'm pretty sure that workout gave me the juice to finish the route at Bozeman.
-Flying, climbing and paddling comps are all obviously different, but they share one common theme: You've got to complete the course/time/whatever the standard is before going faster. I always worry more about climbing to the top of a route or flying a comp paragliding course completely than I do about going fast or trying to make the experience fit pre-conceived metrics of speed or position relative to other competitors. If I'm flying well I am fast. If I'm climbing well I am fast.  If I'm bouldering well I don't worry about the time limits in bouldering comps, I just climb the damn problems. Trying to be fast or other external metrics just results in bad results, of which I've had quite literally hundreds if not thousands over the years. Every time I've won I'm just doing my sport as best as I can. Most every time I've lost I've been thinking too much and not just executing as I've trained to do. In Bozeman I just climbed; rested when I needed to, but goal 1 was to send the route. I knew I might come second if I rested too much, but I could come last if  I fell off…
Last night I had the privilege of introducing Geoff Powter at the Banff Mountain Book and Film Festival. He won the Summit of Excellence award. Here's the text of my introduction, thought some people might enjoy it who weren't there. Make some funny voices in your head for the various people and dog. The dog's name is Tukche, I changed it to tookche so I'd pronounce it somewhat correctly. My writing is a little different when it's for voice, and of course I wanted to do a professional job for Geoff instead of telling stories about him and Blob, well, some things need to stay private.
Geoff Powter
Geoff has been involved with every Banff festival for the last 24 years, and also been a strong part of Rockies mountain culture for at least that long. He's an engaging mix of all-in climber, disturbingly smart psychologist, and extremely good writer; I'd appreciate it if this next line didn't make it outside of this small room, but I've always had a bit of a man-crush on Geoff for his many skills and accomplishments. So I'm happy to introduce him to those of you that don't know him well.
Here are a few of the reasons he's receiving this award:
Thousands of days out new routing in the Canadian Rockies and around the world. If you're a climber here you've done many of his routes.
13 expeditions to the Himalaya, including many notable first ascents such as a new route on the North peak of Manaslu. Of course some of these can't be named as they were done without the bother of proper permitting; Geoff has never let rules stand in the way of success.
13 years as editor the Canadian Alpine Journal. That's basically a life sentence.
7 years as head of the Canadian Himalayan foundation.
Dozens of articles on everything from climbing to bear attacks to the politics of feral horses in the Rockies for magazines such as Explore, Canadian Geographic and many others.
Four free solos of Sisyphs summits, a difficult local route more than 1,000 feet high. I once broke a hold and fell off that route; I had time to think as I accelerated, and I thought of Geoff up there without a rope. There's a lot of mind control going on when hanging off Rockies limestone without a rope. Evidently Geoff is good at this, as he has also soloed other difficult Rockies routes including Paper Chase and the CMC wall. For those of you who know these routes that is very, very bold, maybe crazy. But what we call "crazy" is where Geoff gets personally and professionally engaged.
Geoff's Book, "Strange and Dangerous Dreams, is a deep examination of the blurry mental line between madness and adventure. And it is the mind that always interests Geoff the most; he has worked for more than three decades as a clinical psychologist in the emergency rooms in Banff and Canmore hospitals, as well as in private practice in the Bow Valley.
Geoff's current focus is on leadership development through both the Banff Centre and the Pacific Centre For Leadership, where his clients include first nation's groups and fortune 500 companies.
A man's friends normally say a lot about who he truly is, but Geoff's friends were disappointing in this regard. Bernadette Macdonald, who organized this festival for many years, said, "he's great." Marni Virtue said," He's great." Barry Blanchard said, "He's great." Saul Greeberg said, "This one time in Yosemite we met this guy with a case full…" But I couldn't get one friend to give me the real deal on Geoff, so I have to use his own words, from a story his dog wrote called, "Pawing the void," for the Canadian Alpine Journal. This is tookchay, explaining how a 200l b Mallamute came to be wedged in a crevasse on the columbia icefields.
"I wander not two feet before he shouts to me, "Tookchay-stay close by! There are crevasses around!" Of course I'm going to stay close by, you bonehead (and I don't mean bone in the scrumptious sense of the word!) — I have to follow if I want any dinner at all. And sure enough, ten feet later, the big dive! I fall and fall and fall, and whumph!, land on the narrowest of bridges spanning the crevasse. As embarrassed as I am to say it, I can only tell you that I landed like… a cat.
"I thought I'd better scope out the scene in case they were too stupid to figure out a rescue. A long slot, widening quickly, with a couple of bridges like mine loomed in the bleak distance. One looked like a poodle, the other like a Milk Bone."
Now, while this is funny writing, it also shows Geoff's ability to look through the eye's of anyone and imagine their experience. It's this ability to see things differently and examine an experience, story or mountain from genuinely fresh perspectives that many friends and colleagues enjoy about Geoff.
About ten years ago Geoff and I were trying to climb a route that started with an insanely polished slab. I attempted to stick to the holds like a gecko, and as could be expected slid like a sack of hammers. This only made me mad, so I took a run at the start and managed to get up about ten feet before gravity won and I again smashed into the rocks. Now I was livid; I was failing on a route in front of Geoff POWTER! Geoff just stood back and watched with increasing professional interest as I became increasingly unhinged. Finally Geoiff picked up a nearby dead tree and leaned it against the wall. He asked for some help to steady it, then he climbed up it past the smooth section and proceeded to calmly climb the route above, remarking that it was really nice climbing after the start.
This combined the best of Geoff to me; seeing a new way to look at a problem, solving it, succeeding, and doing so without telling me I was being an idiot in my own approach. I'll close out this introduction with another quote from Geoff's writing. He's interviewing David Jones for Explore magazine and writes of Jones, "I've heard enough stories from serious climbers to know that if you turn the tapestry of their achievements over, there are often messes of ugly knots and loose strings on the other side."
Now, Geoff definitely has some knots and loose strings, which I don't need to go into here. But it is this unflinching examination of both the shiny–and the knotty–sides of life that has led him to help others with their own knots, and to weave a rich tapestry as a climber, psychologist, writer, and truly a positive addition to life in the Rockies. Thank you Geoff, and CONGRATULATIONS!