Canadian Rockies Climbing Seasons: Ice, Alpine, Rock
Date: 23rd October 2021
Canadian Rockies Climbing Cycle: Ice, Alpine, Rock, repeat!
By Will Gadd, November 2021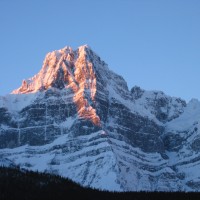 I'm often asked, "So, what's the best season to climb in the Rockies?" I wrote the following so I wouldn't have to keep writing it for people.
Big Picture For Visitors: The Canadian Rockies are a relatively narrow (about 100K) band of peaks that run along the continental divide from the US border north for 1000K or so. Generally they are quite dry on the eastern side with a solid continental climate, and somewhat warmer and much snowier on the western side. Most of the "famous" ice, alpine, and rock climbing is found between the US border (Wateron/Glacier national parks) and Jasper, but there is a lot north of Jasper to be found! The highest peak is Mt. Robson at just shy of 13,000 feet/4000M, but most peaks are in the 9 to 11,000 foot/3 to 3500M range. Valley floors range from 1500M to 800M, so big peaks despite low elevations. Generally speaking, we are about one month "colder" than Colorado/European Alps/New England, so a Canadian October is like their November, and our March is like their February etc.
The Cycle
Mid-October to Mid-November: Stoke for the Ice Freaks, Melt/Freeze ice season, creeping despair for the Rock Freaks. Increasingly good ice, normally low avalanche hazard, normally not brutally cold.
Right around October 14th the ice season reliably starts in the Rockies on above-treeline North facing aspects. This isn't due so much to dropping temperatures, but sun angle. In mid-October the days start to get a lot shorter, and the sun just stops rising high enough to hit most north-facing terrain. This means that all the sheltered above-treeline north-facing terrain (ATNF) starts to freeze, and once the ground is frozen ice starts forming on top of it. Often there is still plenty of moisture, either from springs that are still running, glacial ice or melt-freeze snow in the sun, so a lot of the thin "smear" ATNF routes come in surprisingly fast. If there's too much water then the latent heat in it won't allow it to freeze to the ground, so the larger flow routes don't freeze until the temperature really drops.
You can still climb rock on the lower and south-facing sport and even alpine routes fairly reliably until about October 15th, but you'll have to start later as overnight lows are often below freezing at the tree-line areas. Sport areas such as Acephale generally get too cold around Oct. 14th, but you can push it if you're really stoked. For rock, Echo Canyon, Lake Louise, the Columbia valley cliffs, stuff that faces some version of south is excellent from about Oct 1 until it's mostly done by Nov. 10 or so.
Multi-pitch rock season is pretty much over around Halloween with the exception of the occasional day on Yam or other south-facing protected crags. For me the Banff Film Festival, in the first week of November, kinda marks the end of rock season. If you're really motivated you can still find the odd day, but there are way, way more good ice days than rock days. What exactly is in when will vary, but by November 10 there's enough ice for good ice climbing and guiding regardless of the valley temperatures. Generally you're looking for north-facing routes above 6,000 feet (1800M). The good thing is that avi hazard is normally low, but not non-existent: Take gear, and be aware that we have major slides here in early November. Many of the early-season ATNF Ghost routes come in, this is the time to get them before the smears sublimate into snice or just fall off by mid-December. Ghost driving is good (remember you can't drive into the North Ghost until Dec 1). Kananaskis Country is also a good bet, routes such as R&D are normally in by October 15 for sure, but it can be really busy as everyone charges up there. Take the very early or very late shift, I find this tactic takes care of the worst of the crowds. The crowded conditions will seem OK to anyone from Colorado, but it's not so normal around here. The routes in behind Fortress also come in early and are far less crowded as you have to, gasp, walk! Normally a few new longer alpine rambles get put in around this time of year, and if you're motivated there is a LOT to do. The smear routes on the Stanley Headwall, storm Creek, ATNF routes in Protection Valley, etc are good to go.
If this were Colorado we'd have a dozen new routes every October for sure. Not generally in: Field, anything with a hint of southern exposure on the Parkway or elsewhere, most stuff below treeline
The classic "Big Rigs" normally don't totally form up until at least mid-November, with a few exceptions such as the Sorcerer, Hydrophobia, The Terminator Wall, and Slipstream. I've climbed on the Terminator Wall as early as late October, but it's pretty easy to see if there's any ice up there, and how good that ice is if you have a pair of good binoculars. In fact, binoculars are pretty much essential this time of year… Slipstream is also normally "in" if you like high-hazard easy ice in a great position. Early winter can be a good time to go as the cornice at the top isn't normally quite so massive as it is in the spring. But the glacier travel can be more involved due to less snow covering the gaping chasms…
The Ghost is often "in" a lot earlier than people think. Routes such as The Sliver, Burning/Drowning and anything between Hydro and Sorcerer often forms up in late October, these routes are surprisingly high and face north, it's cold up there earlier than would seem logical while basking in the sun in Canmore.
The Stanley Headwall is likely forming up decently by mid-November. Nemesis is usually climbed for the first time around November 1st, sometimes earlier and sometimes later. The good thing about early season on the Stanley is that you can walk in. The bad thing is the same, skiing is a lot more fun. But little avi hazard.
Hafner, Cascade, anything "low" or "sunny" is NOT in.
The "Alpine" is coming on also. A lot of routes in the Canadian Rockies are best done when the rubble is frozen up, and there's enough ice to get excellent gear. The avalanche hazard is generally low also, which means climbs can be attempted in gullies and across slopes. that would seem suicidal later in the year. Melt-freeze routes are at their fattest, normally they will start sublimating and getting thinner by about the middle of November.
Skis not normally needed anywhere.
Mid-November to Mid-December: Rock done, Ice getting GOOD, Alpine ice ON, shitty to poor skiing.
Now we're starting to get lots of ice choices. Even the south-facing routes along the Icefields Parkway (Polar Circus, routes on Mt. Wilson) etc. are coming in. Normally Whiteman's falls is in enough to climb, and is wildly popular until the road access closes December 1. The Stanley Headwall is in, and depending on the year the ski in is happening too. Avi hazard starts to become more of an issue, but temperatures aren't normally brutal so we don't have a horrendous facet layer (AKA "The shite ball-bearing crystal smack down by the dirt upon which everything slides and kills people). Daylight is an issue—bigger climbs are normally started or finished in the dark, and you'll want good headlights.
For mixed/ice cragging, Haffner is in but the creek can be a pain in the ass, Bear Spirit is coming in, the Cineplex has a good-sized creek flowing down the front of it but is OK to climb at depending on where that creek is running. Don't climb on the mixed routes unless the rock truly is frozen, you'll just break lots of holds and annoy the locals.
Field is forming up nicely but is generally a bit "later" than equivalent routes on the east side of the Rockies, variable. Normally enough in Field by the second week of December to climb.
This is prime Ghost season; not too much snow, most routes formed, creek crossings can be a bit involved due to thin ice, it's great!
New alpine big-rig and classic lines in K-Country are often done this time of year, the melt-freeze is as good as it's going to get, approaches are still primarily dry or only a few inches of snow.
Skis needed for approaching bigger routes along the Parkway or the Stanley headwall, but not for anything else. The road to the Terminator/Golf course shuts, mountain bikes are the way to go. Walking up to the Terminator requires no skis anytime of year unless there's just been a massive dump, in which ase you don't want to be there!
Mid-December to early January : Great ice, Alpine done, skiing poor to OK.
Now the ice routes with lots of water coming down them are coming in or in. Cascade, Takkakaw, Weeping Wall, Louise Falls, GBU in the Ghost, etc, it's cold enough that anything moving freezes up. This also means the days are short and can be brutally cold; the locals generally don't go out climbing below about -15 Celsius, but guides and Americans will push it down to about -35–once. Probably two thirds of the days are good climbing days, but the cold comes in "sets" of three to seven brutal days followed by a week or so of decent weather. We don't normally get huge storms in this period, but regular "dustings" that slowly add up to a significant snowpack. This means the avalanche forecast and being solid in your avi-hazard judgement is important.
Grotto is in too, as is everything in Hafner, good season for mixed cragging if it's not too cold.
This time of year a headlamp isn't just a "good idea," it will get used, as will the mega belay parka and spare gloves.
Not much "alpine" climbing is getting done, but sometimes it all comes together, there have been some good alpine ascents done this time of year despite the short days.
There might be one or two days where it's possible to rock climb at Bataan or White Buddha, but the only people trying to rock climb are serious chalk monkeys without the means to head to Mexico.
Mid-December offers one of the two "best" times to visit the Rockies for ice climbing.
Early January to early February: The Dark Season . Cold, dark, dry, cold.
Everything is in, but the days are short and often cold. People still go ice climbing lots. Nobody goes rock climbing unless there's a rare chinook (foehn). The sun doesn't make a whole hell of a lot of difference in general, it's so far away and at such a low angle that it's almost irrelevant except from about 11-2, and even then you're not getting sunburned. Still, there are lots of good days to climb, and everyone is motivated after the debauch of the holiday season.
The avi hazard can be severe, with a lot of growing/persistent problems and large surface hoar if it does snow. Historicaly, enough snow has fallen to be dangerous, but generally not enough to really sort the snow pack out or give a good base. Wind slab, a meter of facets as the "snowpack," all the fun stuff the Rockies has to offer in the way of snow pack problems are fully on display and just waiting for a human, wind, or new snow. Then again, at -30 it's bomber and sometimes it's all bomber, but that's rare. Oddly, we've been having warmer winters and more snow the last ten years or so. This sometimes results in a much better snowpack than I'd "expect" in the Rockies. Generally, the farther west you go in the Rockies the more snow there is and the better the skiing.
Skis normally needed for anything more than a 20-minute walk from the road that doesn't get done a LOT. Polar Circus, Hafner, Cineplex, Whiteman's, Louise, etc. don't need skis as there are so many people going in. Skis are seldom used anytime of year in the "front" ranges, meaning the Ghost, eastern K-Country. But if you're at all close to the BC border/continental divide and looking at a longer approach then skis are definitely needed. Snowshoes aren't used much here, they are really slow and annoying 'cause they don't slide downhill for shit. That said, they can be useful occasionally.
Mid-February to Mid-March. The sun is coming back slowly! More snow, ice great, not much alpine, odd day of rock.
The last week of February or the first two weeks or so of March is the other "best" time to visit the Rockies for ice climbing. The days are getting longer, the temps reasonable and everything is in about as good conditions as it's likely to get (except the smear routes, they were gone in December). Often the avi hazard works in "cycles," where it's bad after a storm but then cleans up nicely. I really like early March in the Rockies, it's still definitely winter but the sun is strong enough to be noticed, just feels great after a long winter.
The skiing is generally very good with an HS of 10cm on the dry eastern front ranges of the Ghost to about 150 along the Smith Dorien road in Kananaskis to 200+ in the areas on or west of the continental divide.
Some alpine climbing getting done, but the snow makes it a PITA unless you like skiing to peaks.
Mid-March to mid-April: Ice great to fading low, snowpack stabilizing, skiing great. Still "winter," but the sun is strong.
The lower south-facing routes are melting or melted out, and everybody wants to go rock climbing already but the ice and snow are still really good. This is a very dynamic time of year in the Rockies, with warm days and wet avalanches in the afternoon but cold nights, and it can still go to -20 in mid-April. Starting and finishing early on south-facing larger routes is a very good idea, get 'em done before the sun slams the ice and loosens the snowpack up in the bowls above the climbs. Be very aware of the sun in general, big releases in bowls high over the big routes are common as the day warms up, and even a small "sludge" slide can ruin your day. The first two weeks of April often produce some really good winter alpine routes on the bigger peaks, but take care as the snowpack up high will be "winter" on the ATNF terrain and spring on the south faces. We also get big Pacific storms that drop a lot of moisture and last for a few days, then it takes a couple more days for the snowpack to clean up. But lots of sunny, fantastic ice climbing days still, and rock never feels as good as it does after a season of swinging tools. Many Canmore locals bust down to Indian Creek about April 1.
The skiers are starting to burn out, but April in the Rockies is among the very best months to ski bigger lines and do the Wapta and other traverses. The glacial crevasses have their best coverage of the season, lots of light, often great snow on the north aspects, etc, game on if you can hold the stoke!
The rock climbers are pushing the season at Bataan, Grassi, Echo Canyon and on Yam while the mixed crew is trying to finish off their projects before they melt out. The lower mixed areas such as the Cineplex and Haffner are normally done by early April.
25 percent of days are rock climbable, 100 percent skiable and ice climable if you're stoked.
Mid-April to early-May: Spring down low, still good ice climbing and great skiing up high, often decent weather, getting wetter by mid-May.
Ice season really ought to be over, but if you're psyched it's still game on up high. Slipstream and Riptide as well as other high ATNF rigs are still getting climbed, as are many winter alpine routes and some ice routes until the end of May. Rock climbers want warm stone in the worst way, but only about half the days are going to offer up the goods. But none of the "hard" cliffs are seeping as the ground up high is still frozen, good time of year for Acephale on warm days or other "seepy" cliffs such as the Coliseum. Yam season for rock. The skiing is great up high too, but can be isothermic slop in the valley bottoms.
Be extra aware of rockfall this time of year: The ground is starting to unfreeze or cycle, and whatever fell on the snow ledges is melting out. There have been a fair number of accidents on rock and ice routes from rockfall as that debris unfreezes and heads down onto rock and ice climbers.
Take care on ice or alpine routes with cornices at the top, or snow that can release with a little warmth. Routes such as Hydrophobia and on the Stanley are often still good, but the slopes above the routes start getting sun. Same with Field. Respect the sun and rising temps up high.
People are trying bigger alpine routes and getting some things done, but it's still full-on winter on the north faces, yet even they are threatened with cornices in the sun and terrain that catches east or west sun. If you're going after big game this time of year it will shoot back, but some good bigger alpine routes have been done.
Mid-May to July 10th: Shoulder "Mud" Season, spring "funk" weather.
Spring rock climbing season is in full effect, but it's better to go out in the morning in general, afternoon rain is common. A lot more days are OK than people assume, you just have to get out and go climbing, the odd shower or something is no big deal. Down jackets are still getting used regularly.
The alpine climbing is frustrating–lots of squalls and general unsettled to shite weather make it hard to commit, but sometimes it's great–the snowpack can be super stable up high, and is often hard enough to travel on top of in the morning. Just very hard to tell what the day has in store from the parking lot or the forecast (that's always wrong by a fair margin). It can definitely still be "winter" up high until early July, which tends to surprise those from the south who come to visit.
There is still ice climbing on the true north facing high terrain, especially if it's protected from the sun, but you'll be working for it…
Sport climbers are cursing the seeping rock, but every day is better. The rock at Lake Louise is often warm enough to climb on, same with dryer routes in Echo etc. It can be too hot in the sun one minute and then freezing… Yam is good, but the weather is funky in general. Paddling season is ON.
July 1st to August 1 to maybe August 10th: Mountaineering season!
Don't blink, but this is when you want to be out in the bigger mountains. Generally good weather with epic long days, rock is drying out, the peaks and glaciers still have enough snow covering the crevasses and talus for good travel, glacial travel is good, not too much rockfall, just a great time to be out in the high Rockies. Our climate is definitely changing here in the Rockies—this "summer" season used to reliably run much later into August, but we've had a lot of hot summers that are shutting down the classic routes in the Icefields and elsewhere earlier than they used to (no more snow, thin bridges on the glaciers, rockfall, etc). Although not geographically in the Rockies, the Bugaboos are also really good this time of year.
Yam and other south-facing rock can be too hot but often great with an early or late start to avoid the sun (for example, Yamnuska goes into the shade around 2:00, light to 10 so lots of climbing).
Lower-north facing crags in good shape, most time spent in the shade but still bring a big jacket most days.
August 1 to September 15: Forest Fire Season, North-facing alpine rock and crags.
This is when the atmosphere has finally warmed up so freezing levels are generally high to non-existent in early August, and the crevasse bridges are getting really weak so easy alpine travel is ending. Ice faces melting out more and more these days also. The first two weeks of August are still good mountaineering on the really high peaks (Robson, maybe the Icefields), but it's really alpine rock and north-facing cragging season. This is when the bigger Alpine rock faces such as Howse, NorthTwin, etc. tend to get climbed. Thunderstorms can be an issue so go early and be done early, but this is about as stable as it gets in summer here in the Rockies. There are often big windows of good weather and minimal rain low or snow high. Late August is when the alpine rock routes are often in their best condition. Acephale and other north-facing sport crags are great, but too warm for Bataan or Yam or anything south-facing in general, although that's when people tend to climb there. The Bugaboos tend to see most action during early August, then the BS col snow melts out, rockfall tries to kill a few people and it's done there.
Forest fire smoke has been an increasing problem since about 2013. If the summer is really dry to the west then smoke from those fires can be a real problem. You can still crag, but it's not so great to be up high unless you get above the smoke.
Paragliding excellent too
September to mid-October: Trees losing leaves by mid-September, surprisingly good alpine rock.
Hard rock projects are sent, the days are generally sunny, a great time in the Rockies. The atmosphere is generally at its most stable during September, and the high peaks won't really freeze up hard until we get a solid cold front coming through. This is "Sendtober," go rock climbing!
Repeat.
A few useful summer tricks: If it's wet on the east side of the Rockies and blowing east in the valleys go to the west side, especially in May-August. You can often find much better weather over the divide when it's "upsloping" on the eastern side. Upslope winds give orographic rain etc. If you're based in the Canmore area also consider going north or south for better weather; it's only 3 hours to Jasper, and that's got a ton of good climbing, flying and paddling, and often has different weather. Same with Waterton and the souther Canadian Rockies, very different weather generally.
Useful Winter Tricks: If it's really cold (-20 and below) then generally it's sunny. Go climb on the Weeping Wall, Waterfowl Gullies, GBU, etc, from 11-3 in the sun, it can be pretty nice in the solar collectors. Also check the temps on both sides of the Rockies–in big cold snaps it's usually ten degrees C on the western side of the Rockies. The difference between Lake Louise and Field, although only 30K apart, can easily be 15 degrees C. The upper Haffner zone also has a cave in it that is always above freezing. Smells like rat shit, but you can warm up :).
Posted in: Blog
Tags: alpine climbing, Climbing, Gadd, Ice Climbing, Rockies
---
No comments yet... add your voice!
Add a comment
I'm more than happy to hear your thoughts on what I've written. Please note that all comments will be moderated before publishing. Thank you for joining the conversation.