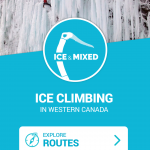 Ice and Mixed Climbing App: Western Canada
iOS and Android
Finally, a complete guide and App to the Canadian Rockies, and select routes in Western Canada. Helmcken Falls to the Ghost, every route.
Old copies of the last guidebook to the Canadian Rockies, Waterfall Ice, are selling on Amazon for $400 or more. This App has every route in that famous but out of print book, plus all the routes in Sean Isaac's Mixed climbs, plus hundreds of new routes, in one App that is fully functional off-line. iOs and Android versions. All information curated by one of Canada's most enthusiastic and well-known climbers, Will Gadd.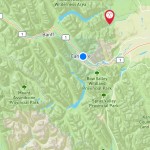 Details: 
A complete guide and App to the world's best ice and mixed climbing.
All maps, GPS locations and route descriptions work off-line, with free optional high-res maps cached.
More than 1,300 awesome—and, let's face it, some not so awesome—routes!
Every single route in the last editions of Joe Josephson's Waterfall Ice, and Sean Isaac's Mixed Climbs. All the information in those books, plus the new routes.
Hundreds of photographs and topos.
The top 100 classic routes have GPS locations for the parking, route and descriptions for the walk in. New GPS information added constantly for the other routes as well.
All routes have approach descriptions, with more and more track information added weekly.
All routes classified according to the Avalanche Terrain Exposure Scale (ATES), with suggestions on where to go for low avalanche hazard climbs.
Hundreds of photographs. Insane levels of stoke.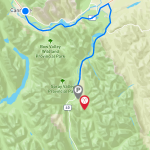 All 1412+ routes are fully searchable by grade, length, aspect, avalanche hazard, location, aspect or any other variable.
$49.99 for five years, free updates for five years.
$25 for one year.
This App is for the climbing community, and we look forward to your feedback, ideas and corrections to make it the best it can be.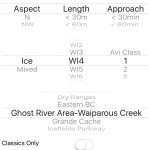 A big thanks to co-developer Steven Rockarts for the amazing coding, work and effort. Thanks also to Tiffany Painton for the new route entry, and Gaby James for organizing the initial book into the database. Thanks also to Joe Josephson and Sean Isaac for agreeing to sell me their word and hard work for this project. Finally, thanks to all the people who contributed photos, ideas, energy and research. This is a great team of people to be involved with, thank you all!