Three Sisters Traverse Notes
Date: 13th September 2017
Three Sisters Traverse Notes.
Will Gadd, Sarah Hueniken, July 4, 2017
Notes written September 12, 2017. Big thanks to Ben and Cia Gadd for the pickup, pizza and beer!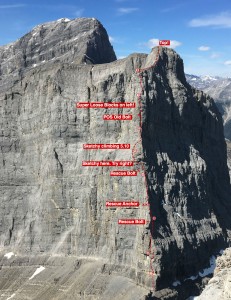 The Three Sisters define the southeast skyline of Canmore like a black etch-a-sketch line across a blue sky. If you're a climber the logical thing to do is start on the looker's left, or north end of the traverse and head up and over the Little, Middle and Big sisters via technical climbing routes before dropping down off the backside of the Big Sister to the Spray Lakes dam. This summer Sarah Hueniken and I finally did it, and I wrote the below to share some information with other people who might be interested.
Here's the summary: The Little Sister is a still serious, but really under-rated and fun climb if you have the trad and choss skills. I like it, and would do it again. The Middle Sister took most of the skills I've amassed in 30 years of climbing in the Rockies to climb successfully, and I have no desire to do it again. The rock on the Middle Sister is hard to get gear in, very loose down low, and unless you're psyched to climb 5.10+ on bad gear and worse rock (and who is honestly?) then you may not enjoy it. I would not tell anyone it's a worthwhile outing. All of the successful (three to date?) ascents of the traverse and Middle Sister have been done by those with decades of experience climbing 5.11 trad or harder on Rockies choss. There are no fixed belays, and retreat/descent would be difficult without a solid rack of pins to leave. While I led it all free with no pins, I also felt it was generally a good place to get hurt without much real climbing joy. Several of the belays took a lot of creativity to build. Bring a pin rack if you decide to go. The Big Sister is more reasonable, but if you take the direct line you'll be climbing a lot harder than 5.3. The "5.10 A1" grade does not do the Middle Sister or the traverse justice—you'll want to be climbing a lot harder than that, and solid on old-school Rockies trad climbing (pins, runout choss, etc).
So, looks great, but until someone does a more modern line up the Middle Sister it's just not something I'd recommend. Unfortunately, Richard Boruta, a well-liked local biathlon coach, husband and dad to two younger kids, recently died when his rap anchor reportedly failed while rappelling off the Middle Sister. He, his wife and two friends were attempting to do the traverse starting from the Big Sister side, and rappelling down the technical rock climbs. About halfway down Richard's natural anchor failed, leaving the rest of his team without ropes but alive.  Kananaskis Country Public Safety were able to long-line in and then climb two pitches to reach the three people before night, and left a few bolts in the process. I've marked these on the topo below. Please take the topo with the realization that it was drawn two months after we climbed the route, and it's a big chunk of stone.
I wish I'd written this route report before his team went up there—they reportedly expected more fixed anchors and better rock. When we climbed it we found zero fixed anchors and a lot of very bad rock. I am writing this now to shed some light on the Middle Sister and Traverse, there's not much info out there and what there kinda misses the point of the experience to me.
The long version:
In July of 2016 the extremely motivated Sarah Hueniken and I tried the traverse for the first time, but retreated in a storm after climbing the Little Sister and rappelling down to the Little/Middle Col. From the col you can walk down to the east and out Stewart Creek easily enough. It is also possible to go down to Three Sisters creek. Note: Many of the directions in David P Jones' "Central Rockies Guide" are switched not only for the Three Sisters climbs but also other climbs. Don't rely on the directions.
Little sister: A worthwhile climb!
5 hours to summit from the car if you're quick, another 2-3 down if you're fast. Probably ten+ hours for most parties.
The Littler Sister offers generally good climbing on decent rock, especially if you stay on route. It's runout in places and requires some careful climbing, but I like it and would even guide it, so it's safe enough if you're good with trad gear and competent at chossing.
The best approach is up Three Sisters Creek (Park as you would for the Highline Bike trail at the end of the Three Sisters Boulevard and follow that until you join the creek after ten minutes or so, cross the creek and follow an old road up on the west/river left side) until the old dam, at which point you break left or east. Head up and east on a reasonable (and possibly now improved for mountain biking trail?) for a few hundred meters, then bushwhack right/south/up for a few hundred meters to gain the rounded crest of the spur/ridge closest to the valley that leads to the upper shoulder of the Little Sister. There is a well-flagged trail for almost all of this ascent, it's pleasant going for a relatively obscure Rockies outing. Follow this trail until you break out above treeline, then go around a rock tower on scree on the right (west) side until you're at the base of the shoulder on the Little Sister.
Walk around to the east (looker's left) onto the north/highway face and start either up the crack/chimeny rig, or up the face to the left of it. One pitch with a bit of a slab move gets you to a creative belay to the left of the crack on top of a small buttress, one or two shorter pitches gets you to a six-foot ledge. Traverse left or east here a ways then back up where it looks easy.  There are some old pins etc. here, including a station on the left just before the final corner. There are a few old pins and various rap stations along the way too. Beware the pins, I pulled one out by hand. Pins are not to be trusted unless you have a pin hammer. When you pull onto the big wide shoulder shoulder there will be some tempting corners and cracks up and left on a direct line, but this is not the line. On our first attempt at the traverse we climbed the direct line, roughly 5.10 locker fingers up a nice corner, bit of runout slabbing, a couple of pitches onto the ridge and then scrambling or short pitching to the summit. While fun and exciting, this is not the correct line, and wildly out of character with the 5.5ish standard. For the correct route, walk across (south) the shoulder and down into the main gully to the south for a couple of hundred meters. There's some really nice water-washed rock and a few pins on the LEFT side of this gully that take you around a steep step and on up.  Good fun climbing. Then beat up the rubble and join the ridge, few gaps and steps solved either with soloing or short pitches (we short-pitched), summit.
Descent from the Little Sister: You can downclimb and rap the steep bits the way you came up, which conveniently puts you back at the car. You'll need to replace tat and possibly beef up the existing anchors if you go down the climbing route. But most people rappel down into the col between and Little and Middle, then go out Stewart Creek. The rap anchors down the south side to the col have reportedly recently been replaced with good bolts. The old raps were OK with a single 80M rope, but not so great with a single 60 (contrary to the books, a 50M rope will not be much fun). With anything less than an single 80M rope you'll end up down-climbing and messing about on chossy slabs, which might be fun if you were into that sort of thing. After a few (three I think?) rappels break skier's left (east) up through a small notch. Don't go straight down into the steep terrain below you at this point, it likely will become involved and there aren't rap anchors. Overall I'd say the descent back down the climbing route is faster as it puts you back at your car instead of wandering around through the Stewart Creek Golf course, but the descent down to the col is better organized at this point and simpler, as well as safer to do overall.
From the end of the rappels climb straight across the "dragon's back" to the base of the Middle Sister. I say, "Climb," as there is no non-technical way to connect the two features. If you're not comfortable soloing this then it's probably an excellent time to call it a day and head down, it only gets harder higher.
Middle Sister: Looks good from afar, but far from good up close.
Note—we took a significantly different line than is show in Bow Valley Rock PDF.
P1. 5.9 From the base of the Middle right on the ridge climb up about 30M with minimal gear to a nice belay ledge (not 10a, maybe easy 5.9). If this seems fun to you then you're in the right place for more of the same but lots harder.
P2. 5.10 R With small wire nuts you can free climb pretty much straight up, pulling a break and using a think crack and working generally up and left. If someone were to sort this pitch out with a direct line on bolts it would be a lot more fun.
P3 or 3-4 give or take. The next long (or two shorter) pitch start on the east or looker's right side of the ridge before re-joining it, fun climbing. You may see some of the rescue bolts from the 2017 rescue here, they are placed for rescue purposes and not climbing, but are reportedly useful.
P5 5.10 was not fun. I went up with decent gear at first, tried to go right, didn't seem likely, went left. Shit rock, bad gear, big fall potential. Building a belay took two nuts, a flake, and a small cam tied together. Compact rock. Enjoy.
P6 takes you take to the ridge via more loose rock and run-out 5.9 or 5.10. If you could stay right or get on The Ecstasy and the Agony that would probably be better? Belay at a partially sheltered alcove on the left for the corner pitch. Work for shelter from rockfall here, you may need it…
P7, 5.9 There's an ancient POS bolt in the corner. At the top of the corner on the left side there's a Jenga pile of blocks that will kill your belayer if you pull on them. Take care.
P8-summit Up. Scramble and maybe a short pitch in here.
This could be a pretty cool route if someone went up there and really built it. Cleaned the loose blocks, put stations in where they were protected from rockfall, it would be neat to have a cool traverse close to town. That'll probably wind the, "Every rock is sacred" team up, but I think it would be cool.
Bring a pin rack if you plan to retreat, want to aid either of the roofs, or generally want to make life easier for yourself. There aren't any fixed belay anchors nor many pins, and most of the in-situ gear is is ancient and not to be trusted. NEVER TRUST EXISTING PINS IN LIMESTONE, THEY ARE NOT RELIABLE. Even with a pin hammer old pins are suspect at best–you may end loosening them by whacking them.
There's an initially good hiking trail from the top of the Middle Sister that breaks back down left (east) into Stewart Creek, but the trail down Stewart Creek is pretty much destroyed from the flooding. It's OK boulder-hopping now. Getting back across the Golf Course is annoying.
From the col to the top of the middle sister was about 6 hours for us. Easy walking from the top of the Middle.
Big Sister
Start left and you can keep it to low 5th class for most of the climb. Where it steepens you can reportedly bust out left on the big ledge and then back right, but this seemed weak and weird looking so we went right onto the northwest face in a super-cool zig-zag pitch at 5.10 with good rock and decent gear. A neat little overhang protects the exit, but is simpler than it looks. Again, a little prep and time and this would be a really fun route, the rock is better than the Middle and the positioning is really cool.
From the top of the Middle Sister across the Big Sister and down to the car was about 5 hours for us
Descent:
It's a long way back to the Spray Lakes road. Arrange a pickup at the old quarry directly across from the Spray Lakes West dam/campground turnoff.. Make sure NOT to descend into the gully to the left of the ridge; it tends to suck you in, and the bottom of it is a PITA. Stay skier's right, and if you end up with a small cliff band on skier's right just below treeline stop descending and climb up through it (there are a few easy breaks), or retrace yours steps a bit and get back on top of the ridge. I went down this gully on a recon mission of the descent, and it's annoying if you're good on your feet and at downclimbing, or will require a rap or two if you're not. The trail sucks too. Go down the ridge…
Good luck. I think we got a little off-route on the Middle Sister and wasted time by not brining pins. The whole traverse took us 16 hours car to car. Bring lots of water if you do go for this, it's dry and hot up there. Nobody calls the peaks by their so-called "Faith, Hope, Charity" names, it's Little, Middle and Big.
Posted in: Blog
---
No comments yet... add your voice!
Add a comment
I'm more than happy to hear your thoughts on what I've written. Please note that all comments will be moderated before publishing. Thank you for joining the conversation.