Goodbye Ueli.
Date: 1st May 2017
Aw shit Ueli. I'm really sorry you didn't make it. The last time I saw you we walked and climbed here in Canmore, and then you raced up the mountains I'm looking out at now with the demons of your last trip to Everest screaming at your heels. I could see the strain in your eyes and the sharpness of your movement, and it was clear you felt a terrible load. It was a measure of your character that you cared so deeply, always… With time you moved forward, but when I heard the news from Everest today I knew the demons had caught you. They will catch all of us in the end, but damn, I wish you had stayed ahead for longer. In an age where athletes define their own "accomplishments" on Instagram and spray endlessly about their self-imposed "hardship and suffering" you didn't. You climbed, and loved it, and thought long and deeply about the mountain game. The suffering wasn't because it was smaller than the goal. To realize great dreams you need great goals. You lived your dreams better than anyone I've ever known.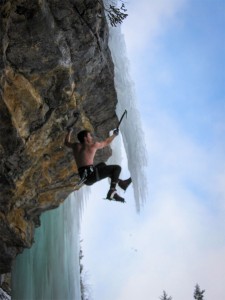 I keep crying as I write this. I cry for the psyched but kinda pudgy kid driving us all in a piece of shit beater car to the cliff with a trunk that didn't work. For the guy who would get up before us and run over to the local bakery to get two fresh pastries for everyone but himself. Who would mimic me when we looked at a ridiculous route and say, "Easy, easy, Red Bull, easy easy, hee hee!" Who drove hours out of his way to get me some Snus from some Norweigan snowboarders when I ran out and was threatening to hurl myself off the balcony of his house unless I could find some. Who shared his house and home and love when I lived there for months and we battled with the first ice world cup. Who climbed two of the routes that I had failed on after I showed him the pictures, winning a Piolet D'Or for one of them. And then had the balls to write me an email starting with, " Greetings from Nepal" How is the Family man doing? Simon and I are just back in Kathmadu. we were on Tengkampoch to get aclimatized for Annapurna Southface. We Climbed the your line on Northface of Tengkampoche, was a f…. great climb." Steck's warm-up climb won him a Piolet D'or.
Ueli was a good man before and after he was the Swiss Machine. Back when he was 19 I could see his ambition and drive, but he wasn't that fast on the approaches, and there were a lot of climbers who were better technically than him. That is the truth. His athletic performances today puts him in the, "He's a machine, therefore I can never be like him" category to most. Actually, the truth is bigger and far more important in its lesson to our own lives: He made himself into the machine. He busted his ass harder than anyone I know. Yes, genetics played a part for altitude, but his genetics were to be a cherub or perhaps hockey player like his brothers, not a ripped machine screaming into the ozone. None of us have any fucking excuse for being lazy or selling ourselves short based on what we think we can't be. You taught me that Ueli, and a lot more. Ueli's climbing was great, but I remember these little fleshes of pure Steck where he would take a mischievous lateral, laugh at himself or dig deeply into an intellectual idea just to understand it. He taught me how a bomb shelter worked, and how to find the hardware store in Switzerland when we built proto ice gear together. That was pure fun. So was drytooling in the pissing rain at an obscure Swiss crag. I didn't want to train in the rain, he didn't see a problem. It wasn't suffering, it was a step toward a goal, no problem.
At the end of your last trip and visit here in Canada you left us a cheap spatula and some other bits to cut weight for flying home. I kept it, and kept using the spatula because I liked the way it reminded me of you. A cheap, transient plastic thing from a mentally rich, self-forged human is somehow fitting, and always made me smile when I flipped an egg for my kids or friends. We joked about it, The Official Steck Spatula and Frying Pan. You wanted to camp with your wife and enjoy the feel of the mountains even though you could afford any hotel you wanted to, and also made my small basement room with the terrible bed your home. I think that said a lot about you—that you choose mountains and people always over everything else.
I liked our climbs and mountain time together (I remember how you simply vibrated with stoke before starting up a big tall ice route a few years back, it was great!), but I really wish we had shared a few more dinners where you started off eating only vegetables then broke and went for the greasy meat platter with savage abandon. Had a few more glasses of wine, diet be damned. In the end your English was excellent, but I'll always remember that wonderful Swissglish voice trying to keep up with the ideas and sparks flowing out of your eyes 20 years ago. That was magic, and you sure had a lot of it.
Aw shit, I wish it was all different amigo, that we were farmers in the Bernese Oberland 100 years ago, and that we and all of our friends died of old age, and we could toothlessly chew grass stalks together in the evening sun and smile at fat cows. But it isn't, and I'm sorry for your family and network of well-earned friends around the globe. We chose a different path, and today your death makes me question my own path through tears. I'll be thinking of you as I walk in the woods or flip an egg, and I'll slap my feet down a touch more solidly in the mountains.
Goodbye and Merci Ueli.
PS–There are many thorough obits out there for those who want to know more. I like this one from Ed Douglas.
Posted in: Blog
---
Comments
Add a comment
I'm more than happy to hear your thoughts on what I've written. Please note that all comments will be moderated before publishing. Thank you for joining the conversation.