Spring Bow Valley Linkup
Date: 27th April 2014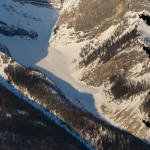 Spring is technically defined as the equinox, when the day and the night are of equal length. In most places this means flowers, rainstorms, and green grass for the easter bunnies to munch. Here in the Canadian Rockies, to quote the great philosopher Ice T again, "Shit ain't like that." It was about -20C and snowing on March 20th outside my door in Canmore. But, even if there's nothing resembling "spring" here there is more and stronger daylight; in the crushing winter of late December the sun rises around 9:00, limps weakly across the sky and disappears behind the mountains around 3:00. If the full winter sun hits a snowbank nothing happens; it's not just that it's cold, it's that the sun has no strength. I doubt you could get a sunburn here in late December. That starts changing in late February, and by calendar "spring" the sun has some power. The power of light usually re-energizes me, lifts me out of the late winter blues and fires me up to get after it. Usually. But this spring has been frigid; it's snowed more days than not, been below freezing, and incredibly February and March were on average 4C colder than normal! Even the most avid winter-lover was getting surly about it all around Canmore by the second week of April.
I've done some fun link-ups in late March through mid-April in the Canadian and US Rockies. One year Raphael Slawinski and I climbed the North Face of Athabasca, Polar Circus and Directessima on Yam in a day. Awesome. Scott Semple and I climbed Polar Circus, Upper and Lower Weeping Wall and Curtain call in a day. Fun. Years ago Malcolm Daly and I linked something like 13 sports in a frantic spring day in Boulder, and I still look back at that day as one of the better improv sports days ever. Spring links are awesome! Usually. But the last six months of training, competing and climbing have destroyed my body, and the endless not-spring had weakened my spirit. I also broke my index finger, and it had only just healed enough to maybe do an easy rock climb on. My elbow was thrashed, again, and my shoulder hurt too, and I froze my feet and honestly didn't have many horses in the aerobic power department. My personal life is also a rodeo right now. If my truck weren't running well I'd be a country western song. The spring psyche was not strong, and to make matter worse I had only one free day, Friday April 11, before sitting in a Wilderness First Aid recertification course for three days. The forecast for those three days was of course sun and more warm sun, perfect, and I imagined all the cool stuff I could do on each day if I didn't have to sit in class: Climb an easy rock route with my busted finger, some warm mountain biking finally, maybe an ice route if swinging didn't hurt too much, do a cool ski descent, maybe get a bit of paddling in even! But I was going to be locked into a room discussing the finer points of pnuemothoraxes and gall bladder obstructions. But what could I do to celebrate spring? Something local, that didn't require too much thought? How about all the cool "classic" mountain sport hits in the Bow Valley? At four in the afternoon on the 10th I decided to try and do all three days in my one free day, even though the forecast wasn't great for the 11th. A high of 8C after a low of 2, but somehow afternoon thunderstorms. In April, for real?
I called my friend Benoit Gosselin, who owns the local gear shop, Vertical Addiction, and arranged to meet him for coffee at 7:00 and go ski the classic "Canmore Couloir" (first picture in this post above), also known as Miner's Gully above town. I then called Rafal Andronowski, who's always up for an adventure, and lined up a Yamnuska rock climbing outing at 11:00. I didn't tell either one of them what else I had in mind for the day, just loaded a few big bins with clothes, Red Bull, calories and lots of outdoor gear…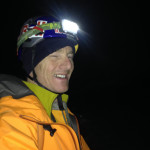 At 03:15 the alarm went off. I hit snooze. It was dark and windy out and the odd snowflake went by in the pale light outside my window. By 3:30 my conscience got the better of my inner sloth and drove me toward the coffee machine. I hate getting out of bed for alpine starts; I'm always scared, tired, edgy, and it never seems like a good idea to start anything so early, but somehow I usually do in the end. First up was the Bow Valley classic ice climb Professor's falls, and I unloaded my mountain bike for the ride in at 4:20. A friend had told me the road and trail were sheets of ice and impossible to ride, but I didn't have time to walk for two hours each direction so they were just going to have to be rideable. With the wind whipping I started, and that always feels better. The closed road was icy with a little water on top for extra slickness, but I only fell over twice before getting to a long section of wet snow that hadn't frozen overnight. A couple of degrees colder and the riding would have been on hard snow, but it wasn't and it wasn't so it was slow going. I had flashbacks to riding sand in Moab as I pinned my heart-rate (thanks Suunto!) on my first ride of the season. But I managed to get my heart rate even higher when I was suddenly surrounded by a horde of bobbing, reflective eyes; I must surely have startled every spring-starved grizzly bear in the Rockies! And I had no bear spray, forgot that. But it was only some elk, who seemed as surprised as me by the weird thing rolling into their midst. A few more crashes and I was at the base of Professor's and swinging ice tools up in the dark. This was fun; I love  ice climbing, and despite the ice being fresh and untravelled it was still pretty good if slow conditions. I was really happy that my finger didn't hurt at all; after months of pain it was nice to just flick the tools and climb. About half an hour later I was on top of Professors, and it sure felt great. I hadn't been able to climb ice for a month and a half (well, I did climb and film on the broken finger for a week and teach a couple of clinics, but not really swing well or climb with speed or power). Ice climbing rocks. But what's normally a decent packed trail with one short rap was a mess of isothermic slush with only a couple sets of tracks from people who were obviously lost. Shit. The tracks ended at a cliff bigger than i had a rope for (I only had a 30M rope), so it was a battle through the slush woods in the dark to find a shorter cliff. It took way longer to get down than up, and was sketchier too! By 7:15 I was back at the car (the descent and icy riding took an extra 45 minutes longer than I had planned for) and texting Benoit that I was running a bit late. But it was still only the time I normally wake up, and I'd already climbed a cool route!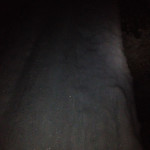 At 7:45 I met Benoit for a pre-ski coffee and a breakfast sandwich in the car, then we drove up to my condo and left my car there. We were going to ski back to it via the Canmore Gully directly above my condo. Stoke! At 8:20 we started hiking up the backside of Ha Ling peak, or rather Benoit sprinted and I trolled along in the back. I was tired. At 8:30 we heard a serious rumble of thunder. Wow, for real? But it didn't amount to much, and with Benoit setting a high-speed pace we were testing slope stability at the top of the gully in only an hour and fifteen minutes. Dude's fast. I called my parents, who were set up on their deck in Canmore with a telescope to watch the skiing portion of the day. Dropping! So much fun even though the snow sucked. I love skiing, it's just an awesome sport. I used to do a lot of it, but most of my winters are now more about ice than snow, and I sure do miss sliding on my feet. The snow lower in the gully was better, and we skied until both my skis went straight down through three feet of snow to the dirt. That'd be the isothermic line, yep. It was 10:45 when I ditched the skis and mountain bike at my condo and loaded a kayak in, shuttled vehicles with Benoit, and picked Raf up at 11:30 for stage three of the day, rock climbing. Unfortunately blue sky was really limited, and it was snowing. Not ideal rock climbing conditions.
By the time we got to the parking lot for Yamnuska it was warmer and at least not snowing, and the sky was settling down a little. With a Red Bull assist we decided to at least walk up to the base for the exercise (although I felt rather well-exercised already), and chose a route we could get off with one rope if we had to (Broken Pony, a combo of Broken Wing and Pony Express–I've guided it, fun day out). Things were looking good until we reached the base and couldn't fool ourselves about the clouds anymore; graupel, rain, snow, hail, sun, all within five minutes of each other. Thunder too. Shit. We arrived in t-shirts, and within 20 minutes had the parkas fully zipped up over our heads. Then, as so often happens in the Rockies, it all went away and the sun came out. Go. I love rock climbing, the flow of stone by my hands and feet, the exposure, it's just so good. It was the first time in almost six months I'd had my hands on stone, and it sure felt nice!
Then, as so often happens in the Rockies, the sun went away and it started to snow. Raf and I were going well, zapping pitches fast, but 5.10 is still slower in the snow than a big groove. I ran sideways into the classic 5.7 "Unnamed," which I'd never done and always wanted to, and we pulled a couple of fast long pitches with the odd rock shoe in snow move to keep things real. Near the top I started hallucinating that there was a huge pumpkin painted on the wall, so I made Raf lead us over the top. There actually was a huge pumpkin on the wall, which we both avoided. Weird. Then, as so often happens in the Rockies, the sun came out as it simultaneously hailed on us a bit, and it was off back down to the parking lot before 5.
So that was three solid outings in a day done, plus  some engaging mountain biking on icy roads and trails (for sure the most dangerous part of the day!). I was really happy with the experience already, but there was a kayak in the van so it was off to the Kananaskis River for a quick kayak session. The put-in was still ice but that made for a nice otter slide into water that wasn't much warmer than the ice lining the banks. But, of all the sports I do, I think I love kayaking the most. Or maybe skiing, and ice climbing is good when it's good, and rock's not bad either… But kayaking is so free-form, almost as good as paragliding… But more seriously, there is just something great about being on a river, feeling the water, catching eddies, riding a really big force and finding the right places to be. The Kananaskis play run is one of the reasons I live where I do; it runs all year, has great play, and yet still feels like what it is, a real river. It was my first paddle of the season, and I loved every minute of it except the ice-cream headache I got when I rolled. That water is damn cold! Thanks to Raf for running my shuttle, I wasn't too up for physically running it.
By 7:00 I had a cold beer in my hand on my couch. One day, four outings I'd normally do in a day each but all done in one. My butt was destroyed from mountain biking (wearing a pack with ice gear on my back for for the first ride of of the season is hard on the sit bones), but my finger had held up, same with the elbow and shoulder, and somehow I'd gotten a little sunburned. Must be spring, finally!!! I could feel the stoke rising as my muscles seized; funny how just one day can change everything. The woe of the country western song in my head had been ejected (Lyrics Born replaced it).
None of the day's components were all that "rad." Moderate ice climbing, fun and relatively popular ski touring, moderate rock, and a nice paddle. But each piece left me thinking, "Yeah, that was the best thing I could have done with that time!" Days like this for me are more about celebrating life, mountains, movement, friends, breathing really hard and making the most out of the day I have, not the perfect day. I will regard my life as a success if, in my last years, I can still get outside with enthusiasm for the day and do  the coolest things I can think of doing, no matter what they are. I'm already thinking about next year!
Oh, and the Wlderness First Aid course turned out to be just the ticket–I needed to rest, and it was interesting, thanks to Dave at Rocky Mountain Adventure Medicine and Yamnuska Mountain Adventures for a really good refresher.
Posted in: Blog
---
Comments
Add a comment
I'm more than happy to hear your thoughts on what I've written. Please note that all comments will be moderated before publishing. Thank you for joining the conversation.