All Mixed Up, Again. M12s, Olympics, Modded Tools, boom.
Date: 13th December 2013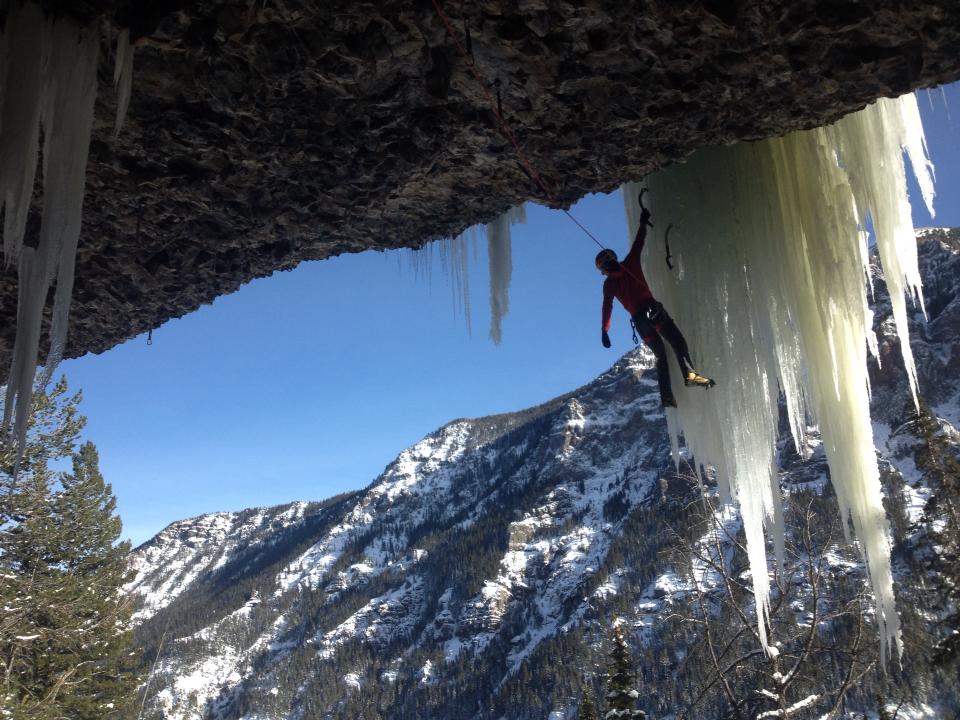 I'm in the midst of the winter season now, on the only day I've had "off" for months, which feels great and gives me some time to write this post. Winter for me means long drives on roads you could play hockey on, bruised body parts, pulled muscles, clinics, slideshows, big dinners with global friends, airport lounges and a huge psyche all swirling like a blizzard into a high-momentum frozen tour. I've been doing the global seasonal roadshow now for more than 15 years, but I'm still totally fired up each and every day I get to do what I love. It's like winning the lottery for me every time I get to step out of the heated world into the cold air and have at it. Right now I'm down in Bozeman, Montana, for the Arc'teryx Bozeman Ice Festival, and it's going off. This is one of the biggest ice festivals in the world, and it has a unique Montana flavour (slightly smoky, a lot of "Give 'er" and a complete all-you-can deal with buffet of wild and wooly climbing, clinics, slideshows and general psyche for all things icy). The festival centres around Hyalite Canyon, which is definitely a world-class ice destination, and increasingly a mixed mecca also. The long drives and belays have given me some time to think, and I've been snagging little pieces of time to write here and there. Here's a collection of thoughts written over the last couple of months about all things mixed…
December 5th, El Matador, Bull River (Cranbrook Area). Best tool toss ever.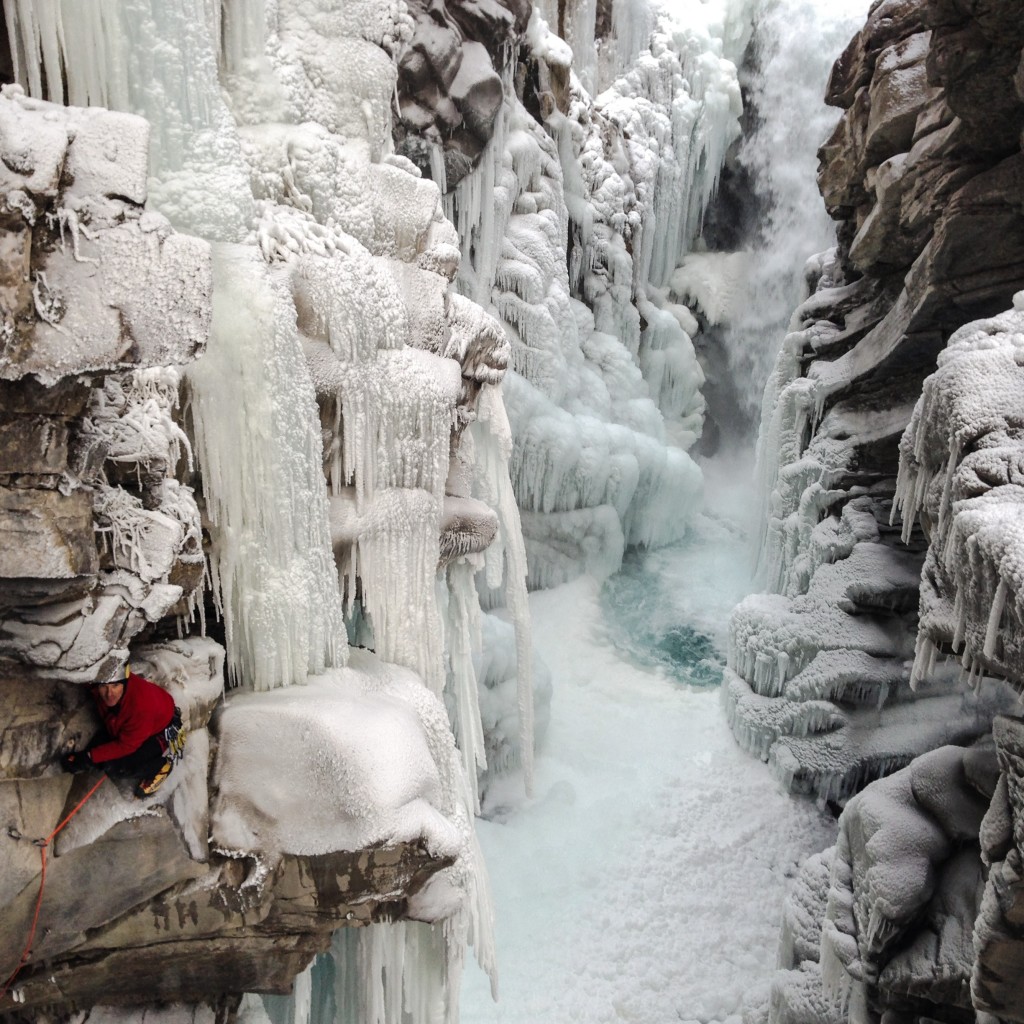 Minus 35 in Canmore. Grim. The forecast high for Cranbrook is a relatively nice -15. Balmy! Off to the Bull River. This is home to Gordon McArthur's "El Matador," a really fun looking route I've wanted to climb for a few years but never made it over to do. I feel reasonably strong and fit after a savage fall of training and developing new crags, and I really wanted to onsight it despite the M12 grade. It's not a super-steep route, and the crux looked to involve an overhanging crack instead of a flat roof. Big flat roofs are really hard to onsight; if you don't find the holds immediately you tend to fall off, or I do. A route like El Matador offers the possibility…
After a surly warmup on a skatey slippery quartzite M8 (no matter how much water-washed rock I climb it's always a new day on that stuff) I tie in and start up the crack. Cold hands (It's still -18 or something), rattly pick locks, friends including Gordon, Sarah and Travis yelling encouragement, one tool popping as the other grabs, and I almost get through the crack but get distracted and drop a tool. Bummer. But I'm not too pumped, and Gordon is a master tool thrower, and two tosses later I catch my errant tool and keep going, stoke! I was worried I was going to have to clove a bolt one-handed and lower a loop of rope or something, and I'm not real sure that would have worked Nice toss Gord! Anyhow, at the top of the crack I found  a cunning rest sitting like a gargoyle on a small pedestal (photo from Lukasz Warzecha's iPhone, he also shot the ascent for EpicTV) you also use with your tools. I like resting. Then it's into a feature where you rail across a small icy ledge with your ice tools. There's more ice here than when Gordon did it, but the broken off stubs of icicles also make it harder to use the slippery footholds on the wall… I disco a monster dagger that was too tenuous to climb but had been useful for other ascents, and it punches through the ice floor of the canyon and into the Bull River below like a stone sword. My partner is a little worried the ice she's standing on is going to break too, but all is good, and soon the chains are clipped. I try for a victory training lap on it but fall off one of the thin holds I used on the onsight; such is the luck of the mixed game, you've got to take care with your tools and sometimes get some good luck.
El Matador is a world-class mixed route regardless of the grade, and I was stoked to climb it cleanly with friends. I down-climbed the full route without hanging while cleaning my draws; all the traversing makes it hard to clean while being lowered, plus I'm always up for getting worked more and down climbing is a great way to get more worked. Gordon and I talked, and it's clear the route isn't M12 to either of us. Gordon did the FA, and based his grade off some "M12″ routes he'd climbed elsewhere. His grading was honest for his experience, and he's calling it as he sees it today. That's solid. The benchmark M12 for me is Musashi. The benchmark M11 is Neolithic in Haffner. There can be a lot of variety in individual grades and there was more ice on El Matador than when Gordon did it, but it's not that steep. I'd call it 10+, but it's one of the best routes I've ever climbed, go get it! Lots of potential in that canyon too.
Bingo Cave, Hyalite, December 11: 
I love walking into an area, looking for the hardest lines, and then trying to climb them. It's a challenge that draws my guts tight and gets me psyched to try my hardest. In Hyalite Canyon there are two routes graded M12 or "Possibly harder," Inglorius Bastards and House of Flying Daggers. In the back of my head I wanted to climb both in a day. I didn't want to state my goal out loud as climbing two M12s in a day would be pretty burly, but what if…
First Up: Inglorius bastards is a 20-plus foot roof to a cool icicle. Nathan Kutcher sent it the day before we got there, and did a nice job prepping it. Mixed routes aren't like sport routes, they close up each season and often require "finding." Ice fills cracks, holds break, new holds appear, it's sometimes like breaking trail through ten feet of powder snow to open a line up each season. My friend and co-winner of Bozeman last year, Whit Magro, also did a lot of the prep, thanks to them both, the route was in good shape.
The first go on IG didn't go well. It was cold, I fell off, I was scared, my tools got stuck, I couldn't find the orange-chalked holds (yep, sidewalk chalk is in use…), I got the barfies for the first time in years, my body was stiff from the drive, and I generally felt whiney, surly, old and about as motivated as a frozen cow patty. Sometimes I feel pretty damn strong, other days I wonder why I get out of bed in the morning. When I feel bad I think about how my friend Ben Firth always climbs to his limit, and I try to climb like he does–no hesitation, just giving it. I didn't manage it this time. Sarah had a burn, and climbed past my highpoint with ease. I cheered for her efforts, but it was a high-gravity first burn for her too. A local youth, Justin, and his dad, Rusty, showed up and started whipping off another route in the cave, Northwest Passage, and their psyche seeped into my surliness. The next go went pretty well, but I fell off when I used a hold poorly. Sarah about sent it which upped the psyche a bit, then my friends Stephanie Maureau and Andres Marin showed up, which also helped with the mojo factor. Climbing is always mental first and physical second; as the Bingo cave filled with honest effort and deep burns it lifted all of us up. Inglorius Bastards went down the next try, and I climbed the icicle to the solid ice above and only stopped where I could stand on top no hands and celebrate. Anything less than easy ice above the fracture line is not an ascent. I then down climbed it all the way back to the last bolt and lowered off. Some mixed climbers today will claim an "ascent" if they just touch the icicle at the end of the dry tool cave section. As Andres says, that's "Invalid Salad." The ice matters, and people fall off it on the red point. Punch a hole in the curtain, break it off, do what you have to do but don't claim an ascent if you don't climb the ice to where all difficulties end.
I belayed Stephanie next, and she hung on forever and battled like a champion when she welded a tool in the grippy Hyalite rock. Over and over she tried to get her tool out. I'm often in awe watching strong women climb; Sarah and Stephanie go into what I only half-jokingly call "Gecko mode" and can hang on forever and then some more ever, much longer than I could. They both came super close to sending, and did the next day, congratulations to the sending "Gecko Sisters!"
Next up was the House of Flying Daggers, which was originally rated M12/M13. No one had tried it in a while, and the small hanging daggers covered up a lot of the cracks and holds. Andres patiently belayed me as I worked it all out and organized everything. Andres also belayed me for the last hour of my 24-hour Ouray ice climbing effort: I owe him a lot of psyche in life, he's an awesome guy, climber and guide. I did all the moves and cleaned out the icy cracks and just worked my ass off to get the "trail" built; it's more upside-down construction than climbing, and it thrashed me. The sun started to set, and I could almost smell the expiry date on my secret idea of sending both routes in a day starting to stink. I belayed Justin on another one of his burns, and he went for it. Screaming, fighting, tools flying, all-in giving it. It got me psyched, as did Stephanie's epic Gecko burn on IG. Cold, tired, shut up and do your best. The climbing on both Inglorious and House is really fun, swinging around on a big roof is just laughing good, at least until the pump sets in. None of the moves on House are all that hard, but they are harder than IG, and there is a more consistent burn factor that adds up like rocks in a basket hanging off your ass, especially at the end. I fought against the building gravity leash with a combination of foot rakes and general stubbornness, and I really thought I might have it, but I couldn't stay composed and took the last hold poorly and was soon in the air with a whimper, not a battle yell, spent. I threw a small wobbler but was too worked get a good one going as I lowered back to reality.
The sun had set, we were packing up, and my body felt hammered from five solid goes and a lot of work–not really the time when the send happens. I also didn't want to fail again, failing hurts when you really, really give it everything you have and still get slapped down hard. Sometimes I give up early to avoid failure. I hate that failing in myself, and train hard to beat it back into the depths of its mental cage…. But I've been literally training my ass off for a project I have this winter that will involve many pitches of hard drytooling, and I know I can still climb OK even when beat up from a big training session… Back on with the boots, tie in, why not see what's left in the head and arms? I nearly fell off repeatedly, and only didn't because of the ground psyche coming up. Friends matter. Head snapping back on desperate grips, hands opening, fuck, it's thin up at the end when you're pumped! As I lowered into the dark after climbing the ice to the top I felt mangled physically but totally stoked to have shared a great day with motivated people and realized a big goal. It might also be the second ascent of the route, not sure.
I would never have tried House after Inglorius without that little dream whipping at me all day long. Thanks to everyone up there who made it happen with me. Sarah and Steph both sent Inglorius yesterday, and Nathan got all the way to the ice on House before riding the skinny side dagger into space–it's not over when you hit the ice, and he didn't claim an ascent. He'll do it next go I bet, he's obviously climbing well.
Grades? Hard to say. I don't think either route is a stiff M12. Stephanie felt Inglorius is M12 compared to Euro grades. House isn't much harder, but maybe a bit, especially without all the ice that was there on the FA. I'll wait for consensus. Mixed grades are a disaster. The Canadian style is to use the lowest grade you can with a straight face. M11? I might be smiling a bit through my straight face… There's a big difference between 13a and 13d, maybe there's room in the M12 grade for both routes or maybe not.
The North American Championships are tomorrow. I swore I was done competing as I really don't enjoy the drama and rules chaos, but here we go again, and I'm usually psyched when on the wall going for it. Looking forward to it, Justin will be competing so the age spread is something like 28 years between me and him. Cool, that's why I still compete.
Olympics:
I've been asked several times if I'm, "Going to compete in the Olympics?" The answer is "no," as there is no ice climbing competition at Sochi, something we've all known for months. However, this hasn't stopped many "competitors" from soliciting funds so they can "compete in the Olympics for X country!" I don't want to be part of that BS claim, or even linked to it. I know some real Olympic athletes, and they have trained and put their lives into getting to the Olympics. To claim to have earned a place to the big show for a non-competitive, non-selective event is disrespectful to their efforts as all you had to do to go to Sochi as an ice climber was ask your federation… There are some people going who are being honest about it all, like Nathan Kutcher writes in an interview,
"What will you be doing at the Olympics?
Pretty much demonstrating. It's not allowed to be a competition. We will be teaching people, and showing people how to climb and do some demonstrations on harder stuff. It was supposed to be up by a ski area, but some organizer made it get moved down to the Olympic Village which is right by the ocean. It's quite a bit warmer there, which might be a problem for the ice. They have a cooled wall. It's like what they use for ice rinks, but on a vertical surface."
He's being clear, and not asking for money to support him competing in the Olympics. Climbers going to Sochi will have a sunny vertical ice wall on which to belay the public, and do some "shows" in +15 weather (there are palm trees in town). "Give me money to go belay and climb a steep skating rink amongst the palm trees in Sochi" doesn't have the same ring really. Still, it's a cool opportunity to get ice climbing some press, as Nathan says in his interview, right on. I'm going to send Nathan some $ to support his world-cup efforts (just bought a shirt). I think the idea of having an ice climbing wall in Sochi during the Olympics is good for my sport, and I support all the climbers going to help belay and demonstrate that to the public. It's a good opportunity to promote a sport I love. There's just some BS in the hype I feel the need to call out, and I'm not done doing that just yet, see below.
Modded Tools:
Every few years mixed climbing goes through a technological mutation, and climbers and competitors have to decide how to play with their new toys. When leashless tools first evolved competitors and climbers were hooking the handles together and sitting on the lower pick like a steel banana (the mind boggles as to what would happen if the pick slipped…). Most of us thought this was lame, and decided not to do it. Same with hooking our legs over the tools and hanging out for a coffee break. The UIAA (which is responsible for ice climbing competition at the world cup level) generally follows the lead climber's style after a year or two. Spurs, which allowed climbers to rest for hours or days sort of like inversion boots, were also quickly seen as kinda lame and chopped off by everyone.
The latest technological weirdness is to add up to six inches of reach to each tool with CNCed or otherwise home-built-handles. The UIAA competition standard is a box that a tool has to fit into. Angle it just right and you can add stilts to your tools. And hey, that long reach just isn't so bad anymore. I'm thinking of doing this for a few rock routes I just haven't quite been able to stick, just add a hand extension!
The long tools make a lot of reaches a lot easier, but it's already been tried and viewed as sort of lame, like sticking a pick in your butt for a rest. Back in about 2003 Bubu (Mauro Bolle, a really talented and innovative Italian mixed climber) added "extensions" to his tools to climb Ben Firth's standard setting "The Game."  Bubu s pretty short and innovative with his gear, and the crux reach on The Game was simply too big for his wingspan.  This is the first known ice tool extension that I know of. Bubu's tools used to sprout more ornaments than a Christmas tree, and he was not only a good climber but a master of working the "tool trickery." While I think we all respected his innovation, it also seemed a bit lame, as the whole tool trickery game ultimately turned out to be.
But if even one top competitor runs stilt tools as they are legal in the rules then the others have to as well if they're serious about winning. That's the game, or is it? I and others who are psyched to climb and not play "My tool is longer" games are running stock tools, even in comps. I'd rather lose in what I see as a legit way than win by tweaking the rules just to find advantage. And using the long tools to make reaches easier on real mixed routes doesn't really seem sporting to me. I have a negative 2 ape index, that's what I've got to work with, bring on the North America Championships in Bozeman next week (and I just heard that they're going to go Montana and only allow stock tools, right on)!
 And it's back to filing picks and organizing gear for Bozeman, great clinic here, so many old friends, love this place!
Posted in: Blog
---
Comments
Add a comment
I'm more than happy to hear your thoughts on what I've written. Please note that all comments will be moderated before publishing. Thank you for joining the conversation.